How To Order A TMI Interior
6 Steps To Order Your Perfect Automotive Interior
Ordering an interior is a bit like choosing the right paint color. For some it's an easy choice as they know the exact color they want without a doubt in their mind. For others, there are endless choices that can be overwhelming. Ordering an interior can pose the same problem with tons of choices here at TMI Products.
We sell stock replacement upholstery, but we also sell complete modern aftermarket interiors too. We have numerous styles of seats, over a dozen different patterns, and over 600 different materials to choose from! The great thing is we are able to make a seat to fit exactly the style of your car. The bad thing is this might be a bit overwhelming to choose from so many options!
We are taking the time to go through some of these options to help you order up the interior you want for your car. If you still need some guidance, you can always call our friendly Sales Team at (888) 460-0640.
What Style Is Your Build?
Before diving into all the options of buckets, patterns, and materials, you need to ask yourself what style of build is it? For example if you're building a street bruising Pro-Touring machine, a stock bench seat doesn't fit the build - you need a set of performance minded bucket seats.
On the same token if you're building your car to 100% factory standards, it doesn't make sense to do a full custom interior in it.
There are ways to blend the two though. Say you have a car that appears stock but has subtle upgrades, such as a restomod build. We can increase the bolstering in the factory seats, or even stitch up our universal buckets with a factory color and pattern so it appears factory.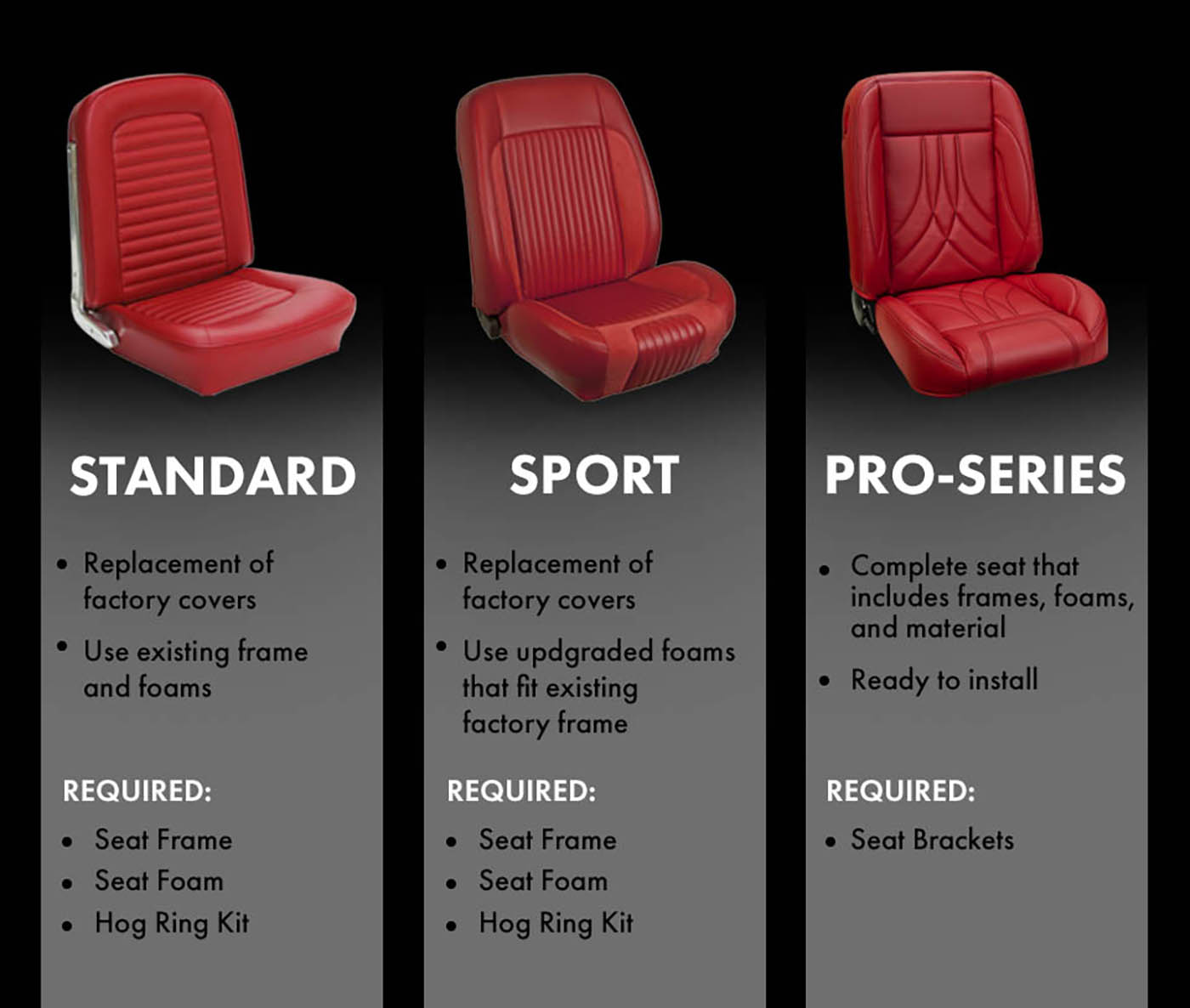 Stock Or Custom?
The first step with your interior is going to be whether you want to keep it stock, go custom, or something in between. For many applications we offer completely stock interiors. Most of those applications we also offer our Sport seating which uses a factory seat frame but our foam and upholstery. This gives you added bolsters to the seats but remains factory appearing. If you want to go something more modern, we have custom interiors as well.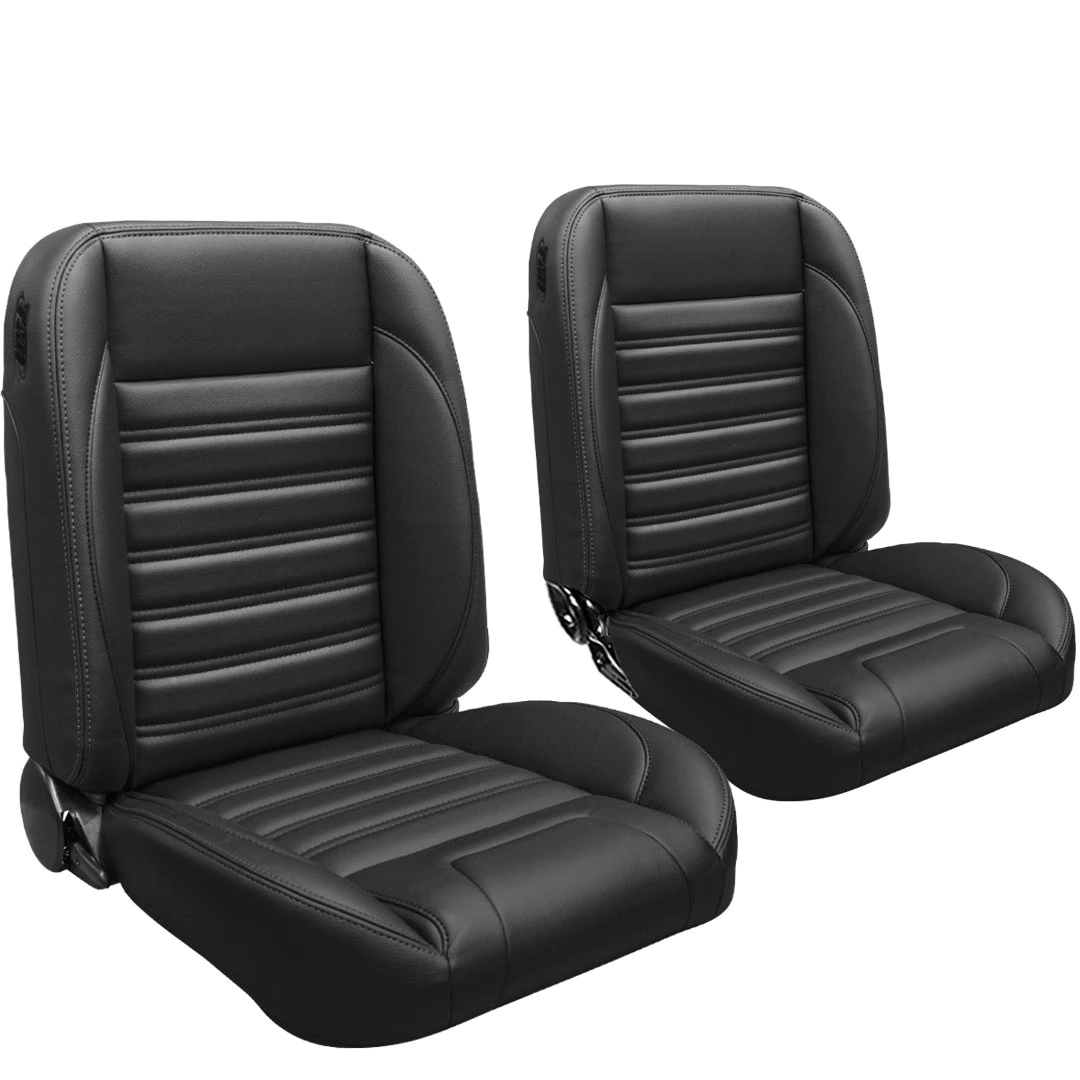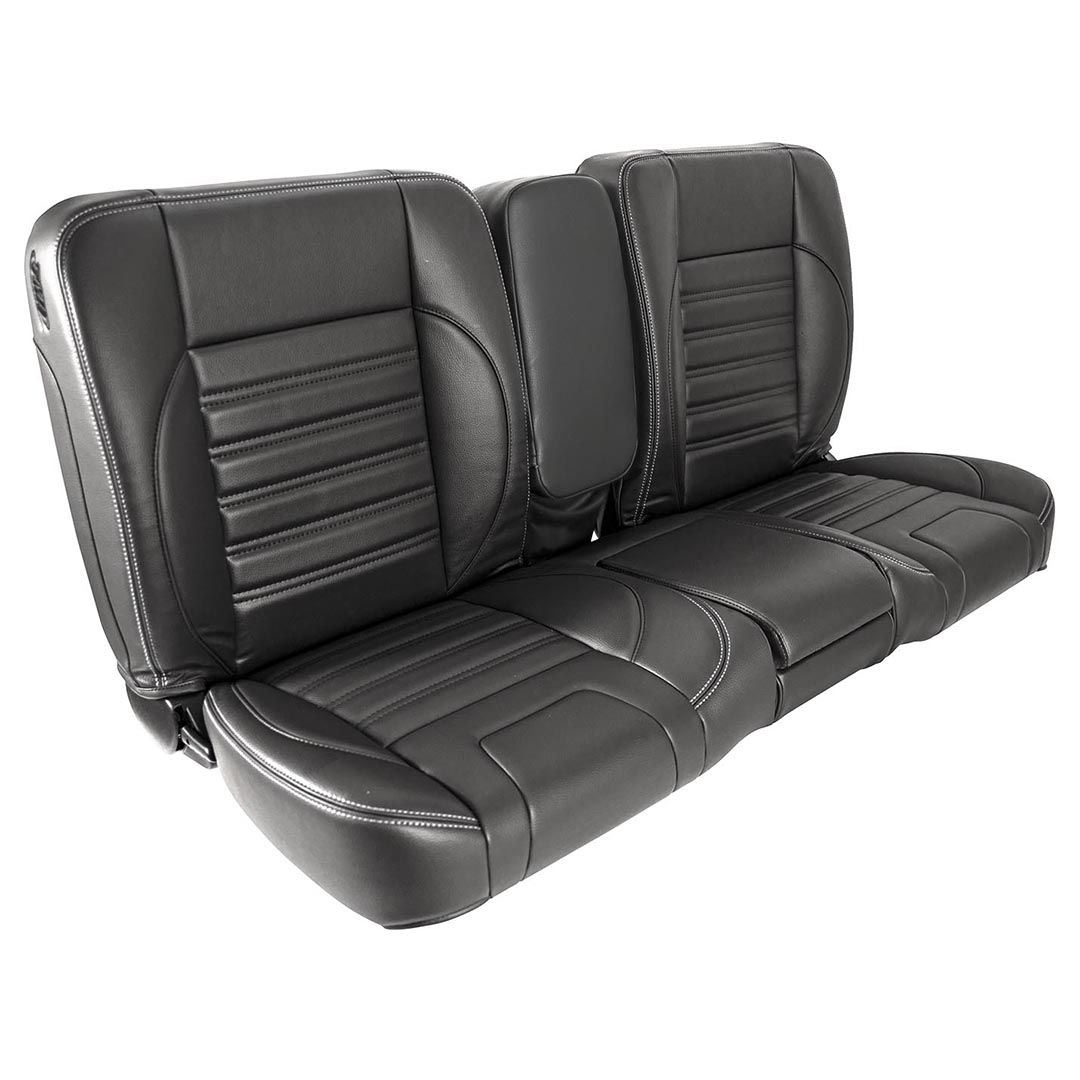 Buckets Or Bench?
The second step will be determining if you want buckets or a bench seat. For buckets we have five different styles to fit your car or truck, but the most popular are our Pro-Series Lowback and Pro-Classic. The Pro-Series Lowback is a universal bucket seat but has modern bolstering and can recline. These are much more comfortable than any classic seat.
The other seat is our universal Pro-Classic. This seat is a bit wider and has smaller bolstering than the Pro-Series seat. This seat is generally found at home in a truck or somebody that wants improved bolstering and maximum comfort. Just like the Pro-Series, this seat can be reclined as well.
If buckets aren't your thing, we have several bench seat options. Our Pro-Series Bench features two bolstered backs that recline forward and back, and a bolstered bottom. If you want something a little more fancy, we have our Pro-Series Deluxe bench seats that feature a fold down armrest in the middle that has built-in cupholders and there's even a storage compartment in the bottom cushion. We have different seat widths too from 60" wide, 55" wide, and the Pro-Series has a 48" wide version.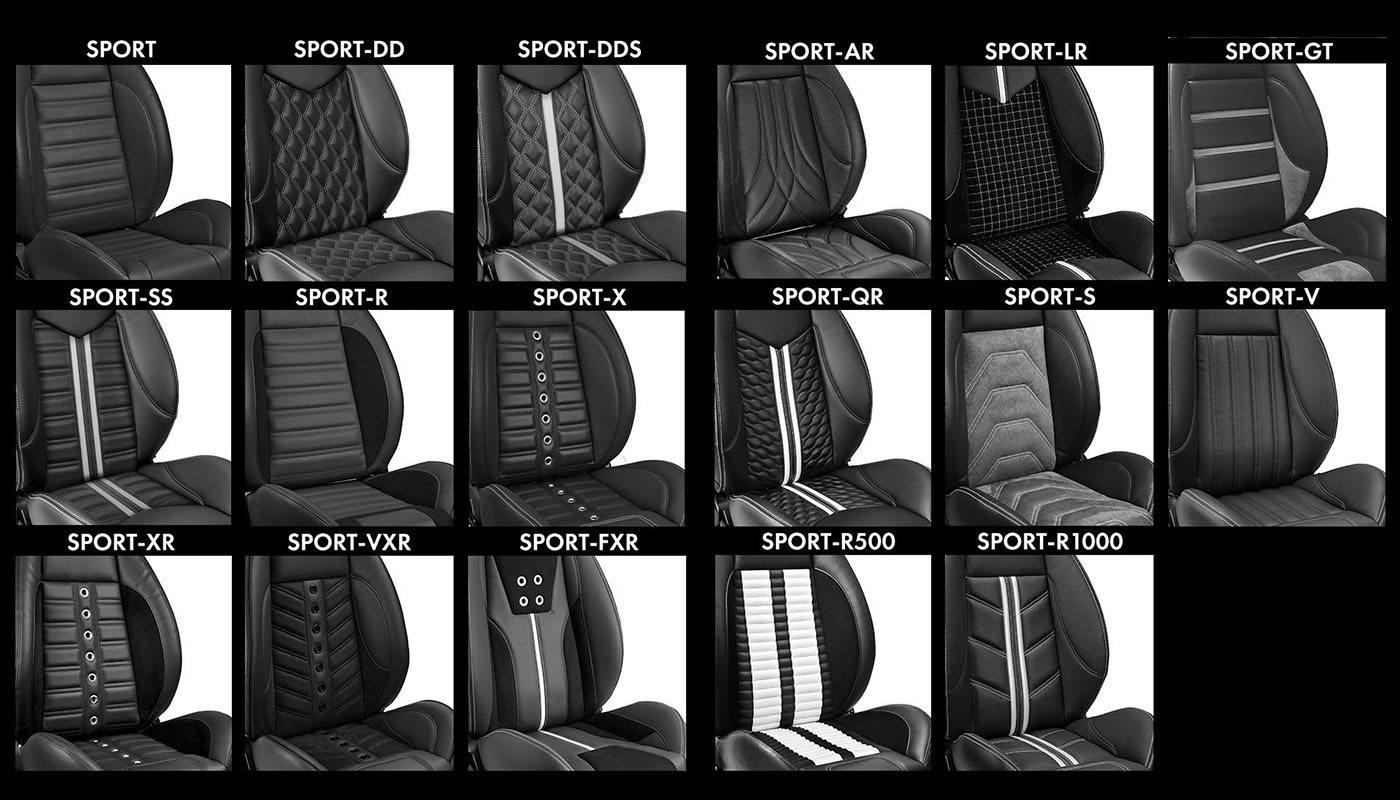 Pattern Of Choice
Now that you've determined stock or custom, bench or bucket, your next step will be to determine what pattern to use. Now even if you chose a set of new TMI buckets, we can still make those in many factory patterns.
However if you want to go custom, we have sixteen different patterns available. If you want a clean and simple seat, an original Sport pattern would be for you. Something a little fancy? Check out the Sport-AR pattern. Do you like grommets? Then the Sport-X series has four different patterns with grommets. As you can see this isn't a one-size-fits all application.
Pick Of The Rainbow
Remember how we mentioned that we have over 600 different materials? If you want the exact color interior that came in your car - we can do that. Many choose to do something completely different. We have vinyls, plaids, houndstooths, suedes, even material that looks like carbon fiber!
We can mix and match these just about any way you want. This allows you to create a truly custom interior that compliments the car or brings in some color to match details on the outside of the car.
We can also send you swatches(sample pieces) of material so you can touch and see the material you're getting before you ever purchase it.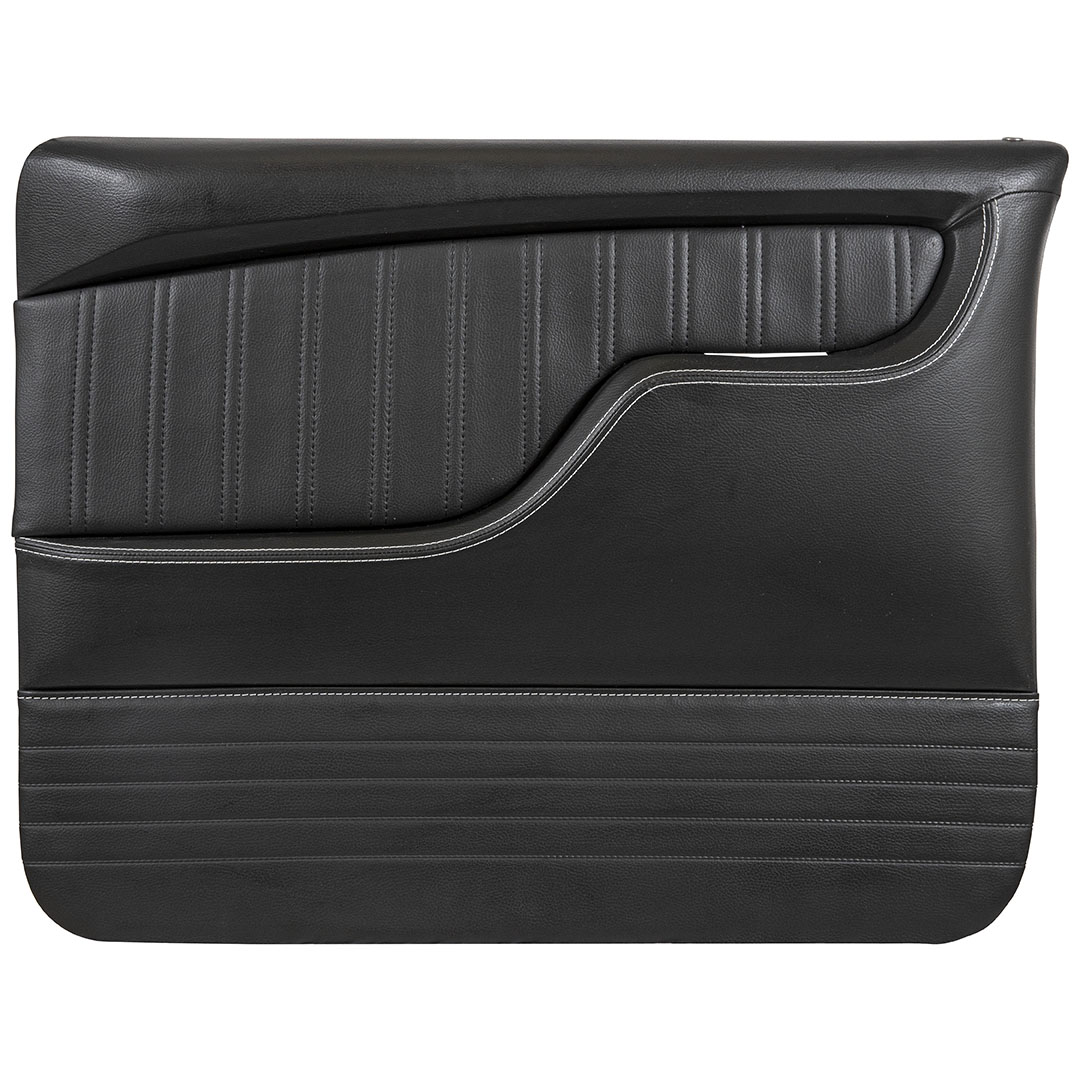 Finishing Off Your Interior
By this point you've determined stock or custom, bench or bucket, and what pattern to put on your seats. The next step is to look at our selection of Door Panels, Dash Pads, Headliners, Carpet Kits, Floor Mats, Consoles, And Trunk Kits. We have several options in those from stock to custom, but if you've already chosen one - we can make these pieces match.
The same pattern you choose for your Pro-Series seats can be applied to our molded door panels. This same pattern can be applied to our consoles and even the trunk kit. This makes everything flow together from dash to bumper.
No Kits?
One question we do get asked a lot during the ordering process is if we offer a kit for their interior. The simple answer is that we don't. The reason for that is we have so many different options available that we don't want to confine you to one pre-selected kit.
Give our friendly sales techs a call though. They will happily assemble an interior package kit for you that's exactly what and how you want.
Inspiration Gallery
If you're still not sure what interior choice you want to go with, check out our gallery of builds! Here you can see all makes and models with various TMI interiors. You might want the exact interior you see, or maybe you just want the pattern from one car and the color of another car.
More Questions?
If you have any questions, reach out to our friendly Sales team! They help choose interiors every day and can guide. They know what fits best in your vehicle and can give suggestions on what colors to choose. Call (888) 460-0640 or you can email them at tmiinfo@tmiproducts.com If you want to check out our seats and try them out, come find us at a show where you can have a seat and see what it feels like to sit in the best interior out there.