Jeff Thisted's 1955 Chevrolet Not-A-Nomad
Jeff Thisted's 1955 Not-A-Nomad
You'd be hard pressed to find anybody who puts as many miles on a classic car as Jeff Thisted. In his 1955 Chevrolet 210 Handyman Wagon, Jeff traverses coast to coast numerous times a year. Jeff is a professional MC and is the man behind the mic at numerous Good Guys events, the entire Power Tour, and anywhere else his skills are needed.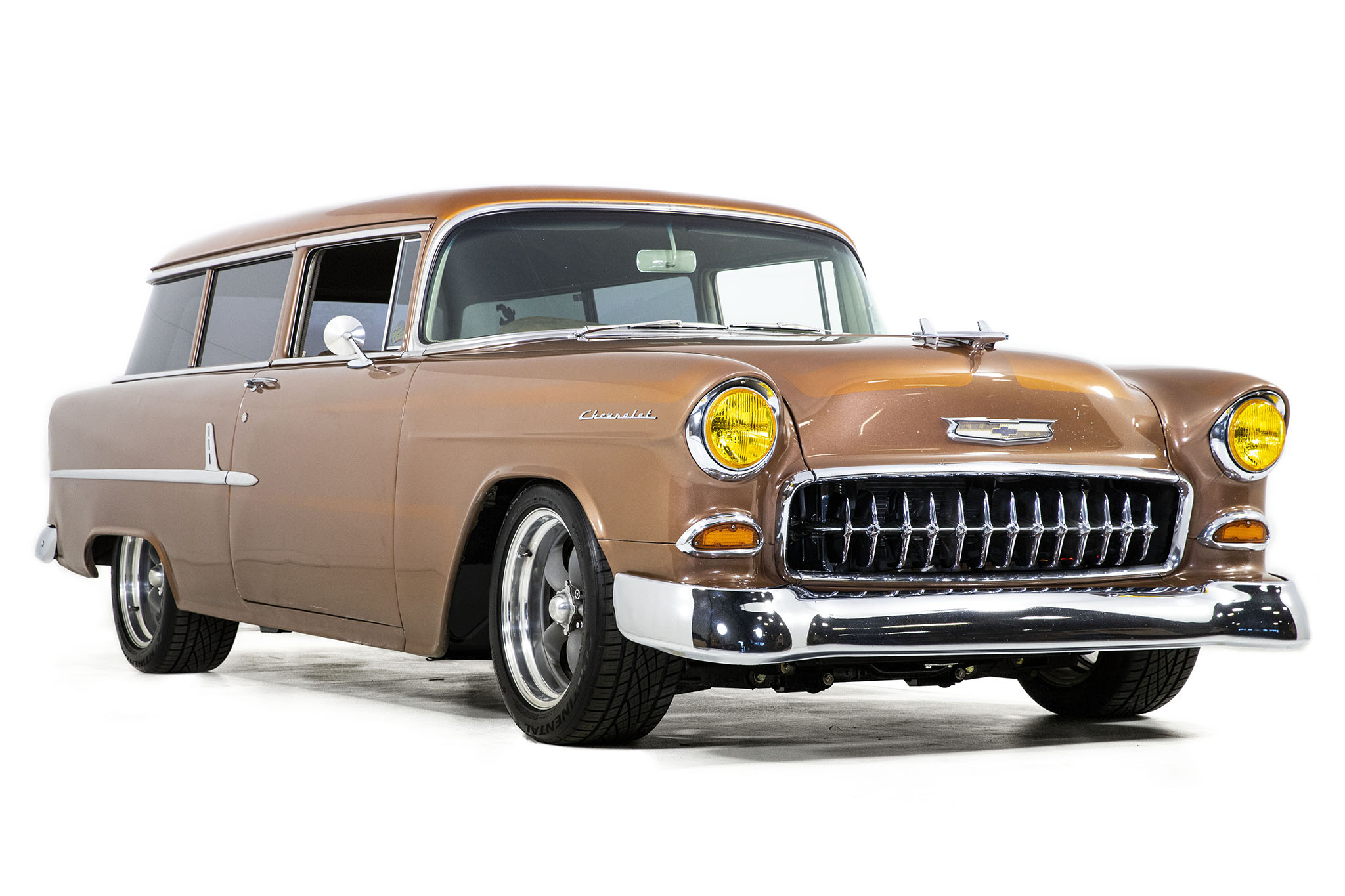 Instead of hopping on a plane and flying to an event, he drives in his beloved wagon. Being a 1955 two-door wagon, it's often mistaken for a Nomad. To the casual observer they are very similar, but to Tri-Five lovers these are far apart. That's why he always uses the hashtag #NotANomad.
To date, Jeff has been to 26 States in his trusty wagon and visited over 30 National Parks. He's a history buff too and loves to find Mid-Century Modern hotels and attractions to check out and park his car in front of. If you give him a follow on social media, you can watch as he finds and explores national treasures.
Jeff's wagon didn't exactly start like you see it – the paint job was already there, and it was in good running condition with a 350/350 combo under the hood. Years of use and thousands of miles have evolved his wagon into the road warrior it is today.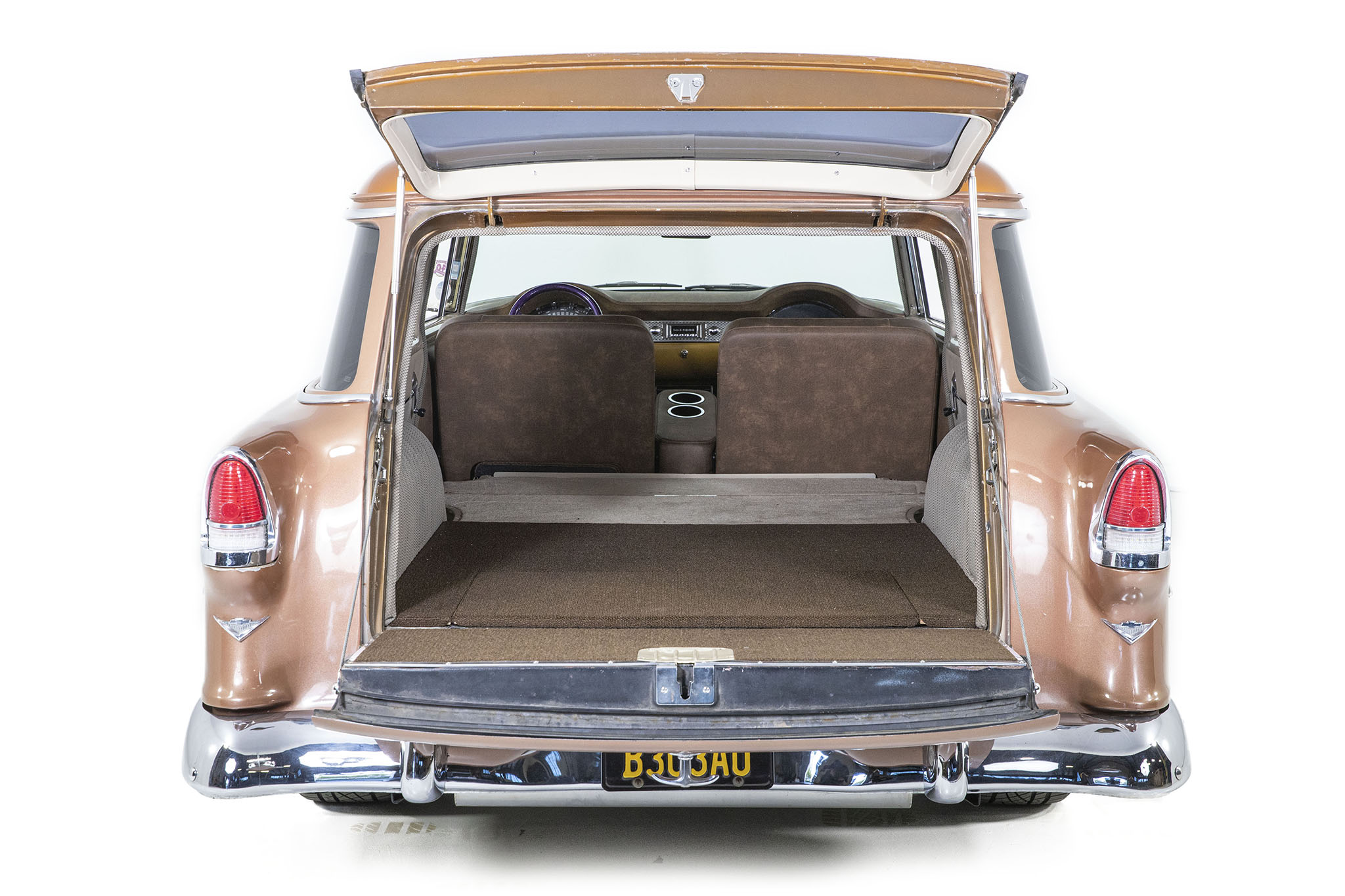 From The Frame Up
One of Jeff's latest upgrades to the car is a complete Roadster Shop SPEC chassis. Before this, he was riding on a stock chassis with bolt on parts. This Roadster Shop chassis is outfitted with Wilwood brakes, 6-piston in front and 4-piston in rear. Surrounding the wbrakes is a set of American Racing Torq Thrust II wheels with Continental Extreme Contact DS06 Plus tires. Aaron and crew at OC Hot Rods finished up this swap right before the 2023 show season kicked off.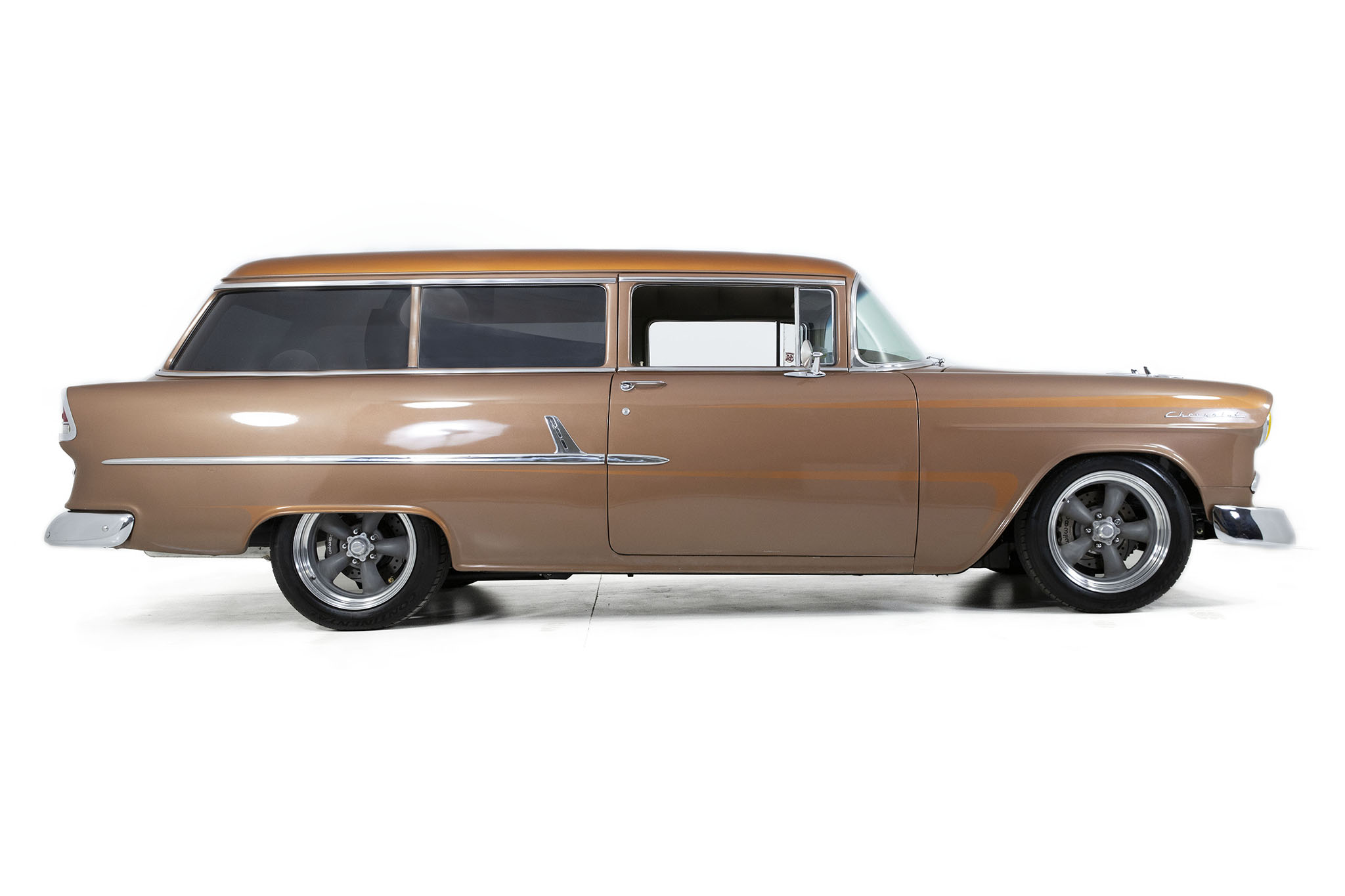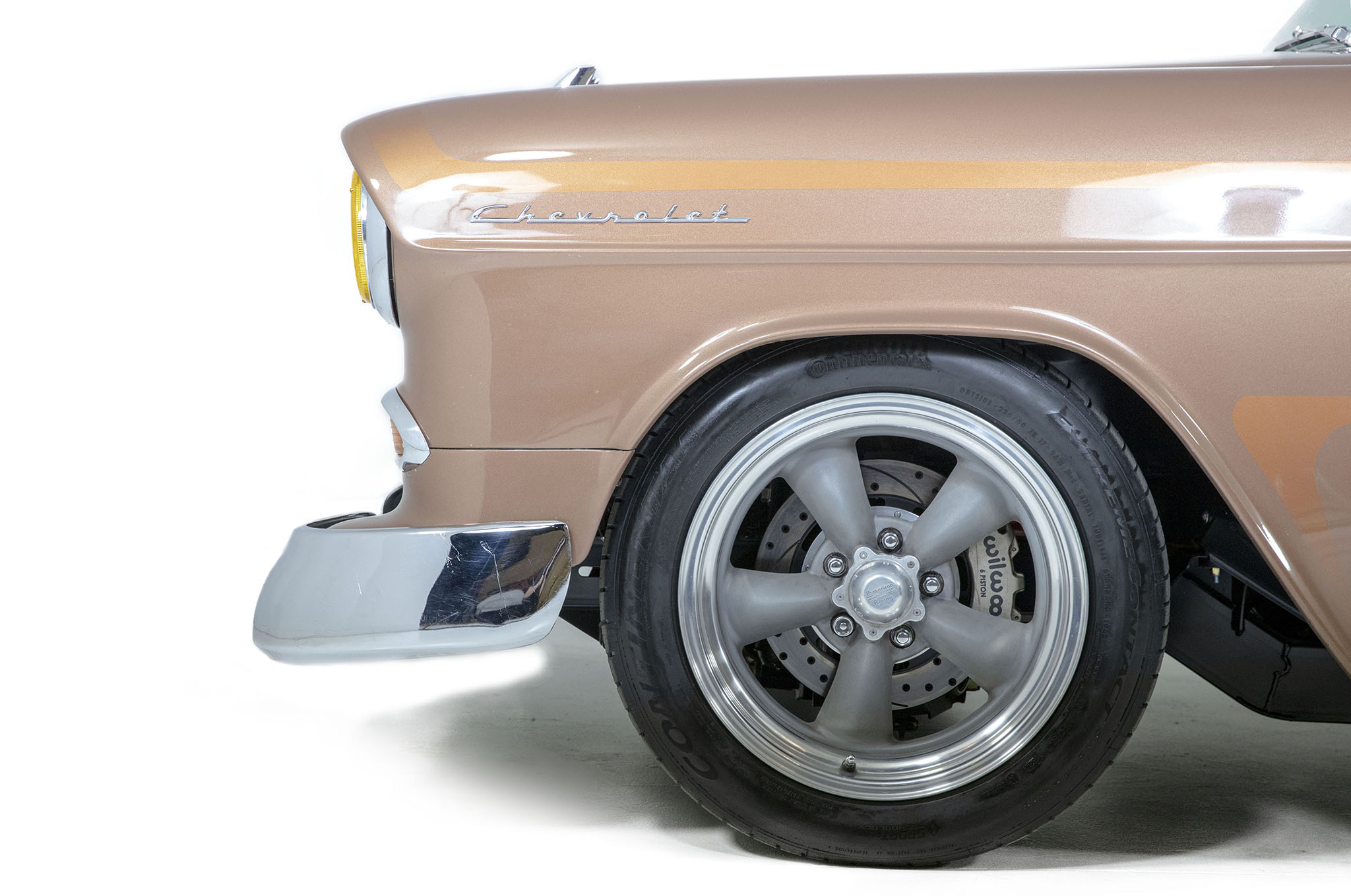 Under Hood Power
What started as a basic 350 cubic-inch small block Chevy backed by a TH350 transmission has now been replaced. Just like the chassis, Jeff needed something better to scoot him along the road and get better MPG.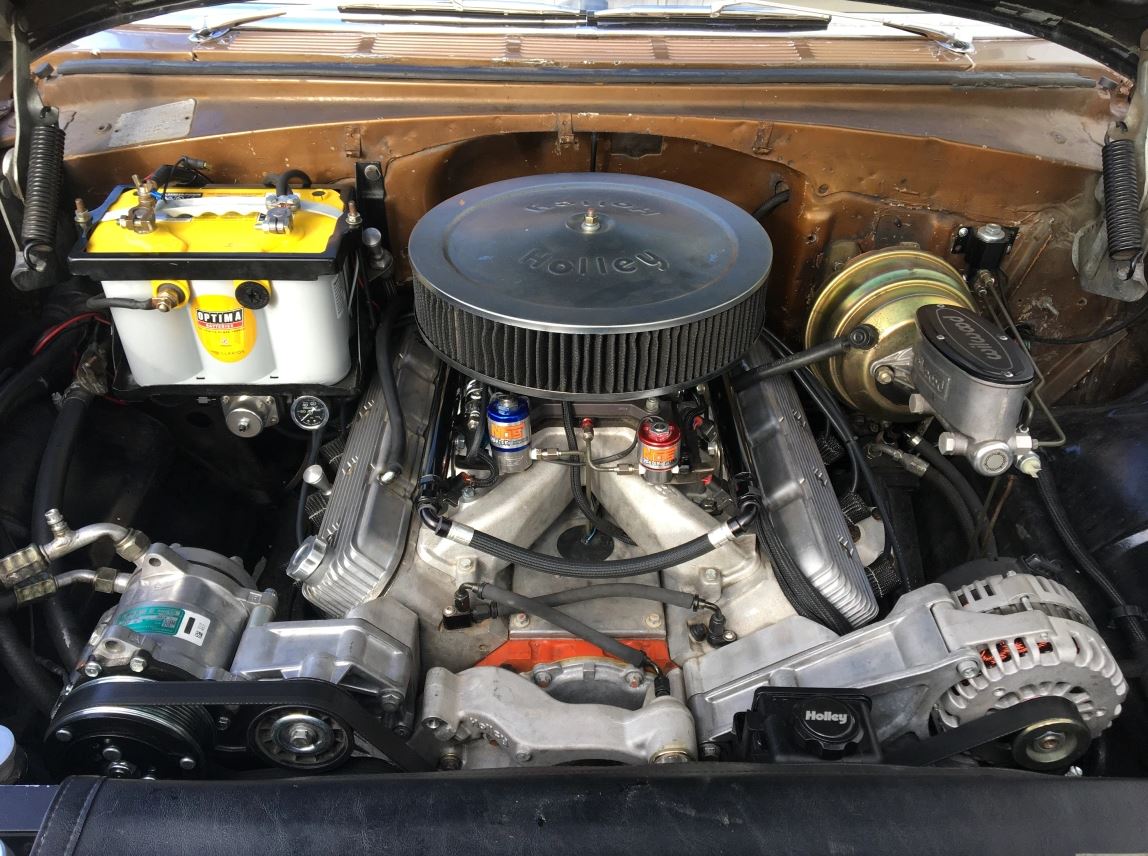 What he chose was an LQ4 6.0 LS that was bored and stroked out to 408 cubic-inches or 6.7-liters. The engine was balanced, blue-printed and assembled at CPR Engines. They put Mahle forged pistons in it along with a slew of COMP Cams parts to tickle all the valves. Holley was utilized for the top end including the intake, throttle body, and valve covers which give this LS a classic look.
For good measure, Jeff added a NOS system too for when he's feeling a little frisky. Backing the powerhouse is a Gearstar Pro 4L80E Stage 4 transmission which sends the power down a QA1 carbon fiber driveshaft. The engine and transmission are held in place with a CPP LS Swap kit.
Interior Comfort
On The Inside, Jeff needed some upgrades. The stock seat was okay but after driving all day long all across the country he wanted something a little more comfortable. Jeff reached out to TMI Products and fell in love with the Pro-Series Deluxe Bench seat. This is a 100% new bench seat that features a fold down armrest that has built-in cupholders, along with a hidden storage compartment. Bonus features is that these seats can recline unlike his stock bench.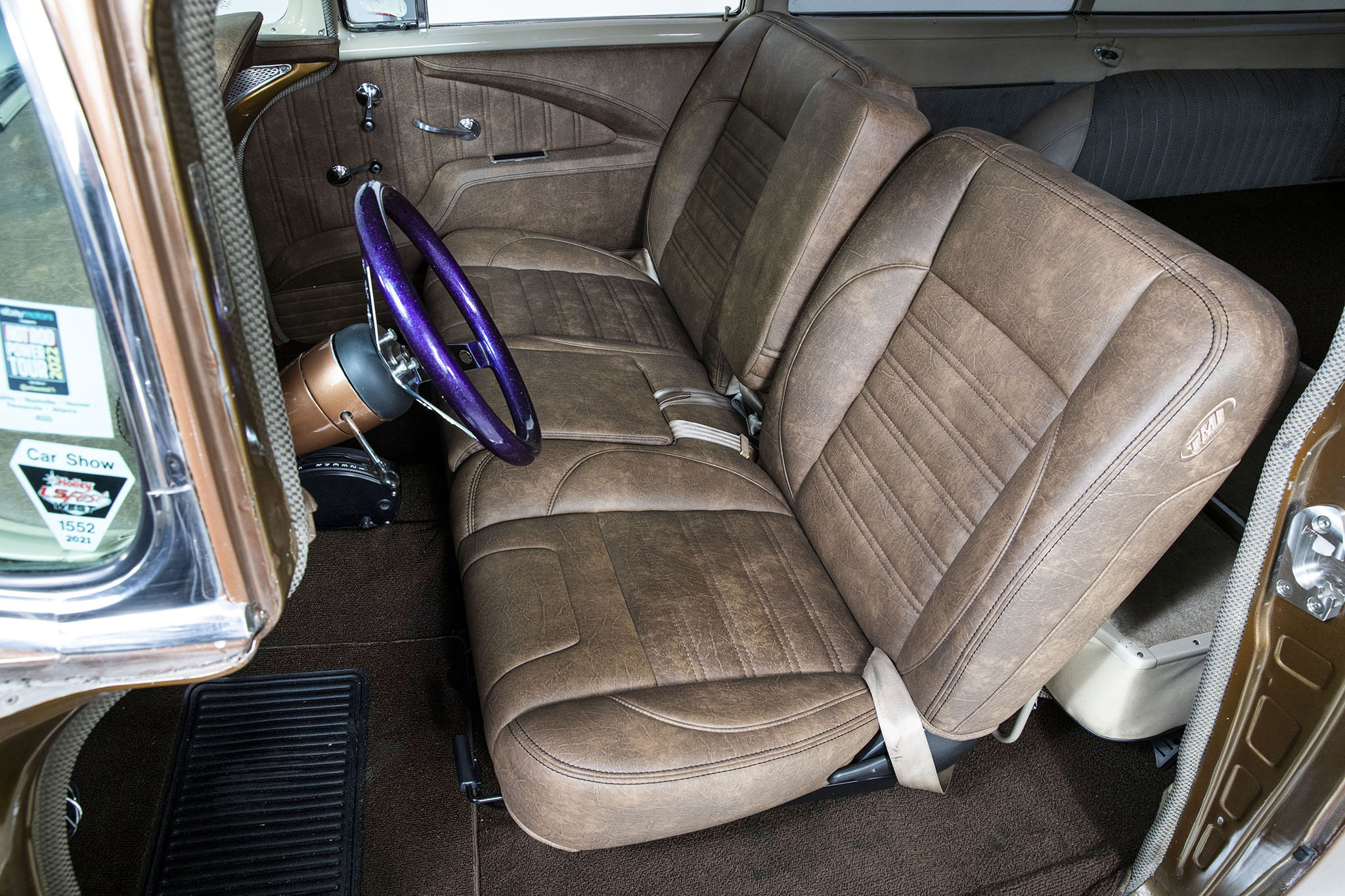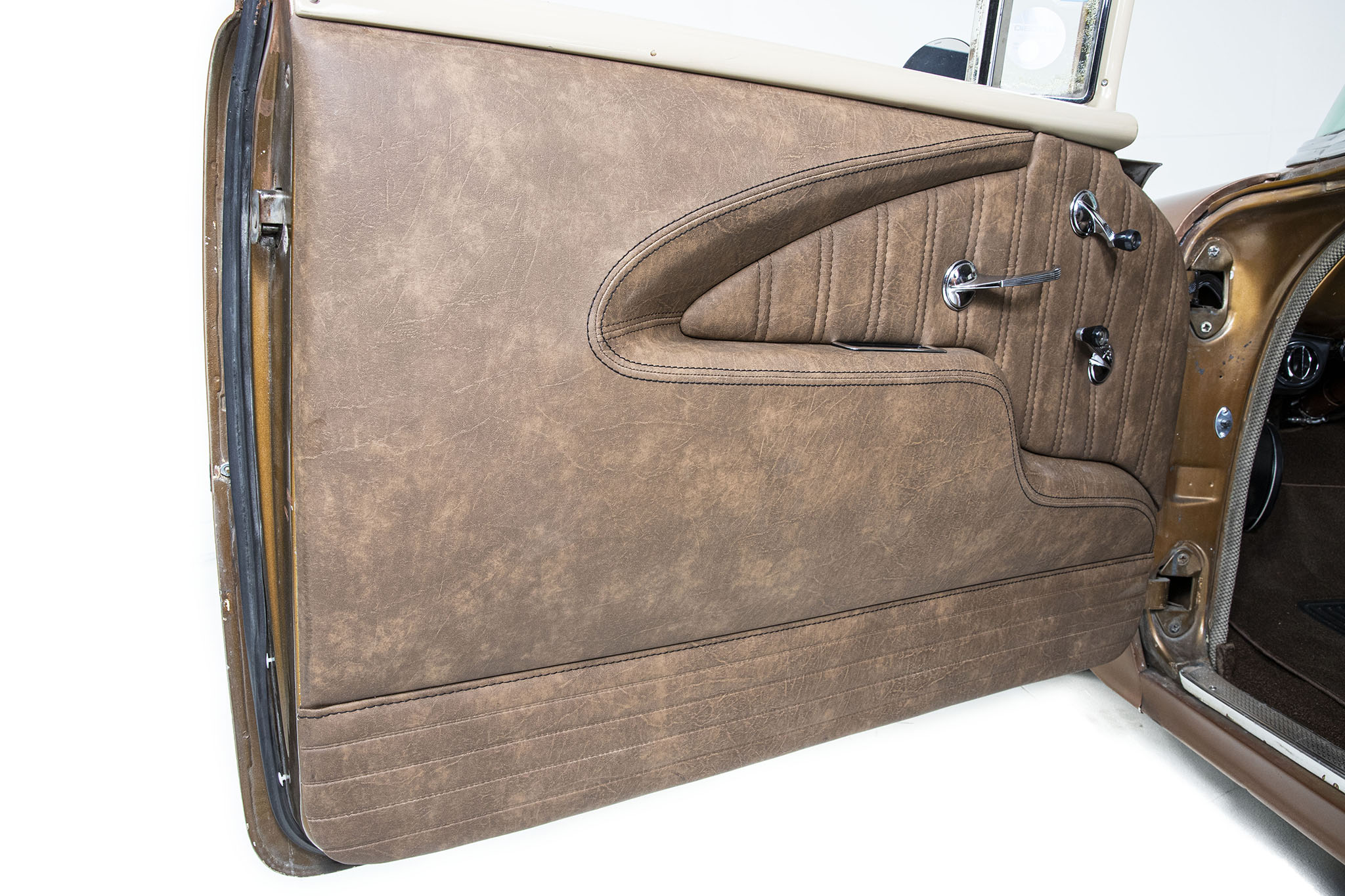 To compliment the TMI bench Jeff also picked out a set of TMI molded door panels and a TMI Sport Dash pad. One of his favorite features is the dash pad and how it gives the humps more of an eyebrow like a Corvette dash! All three items were stitched up in a Y-509 Distressed Brown vinyl with a black contrast stitch. The last item from TMI was a carpet kit and floor mats to tie the new seats together.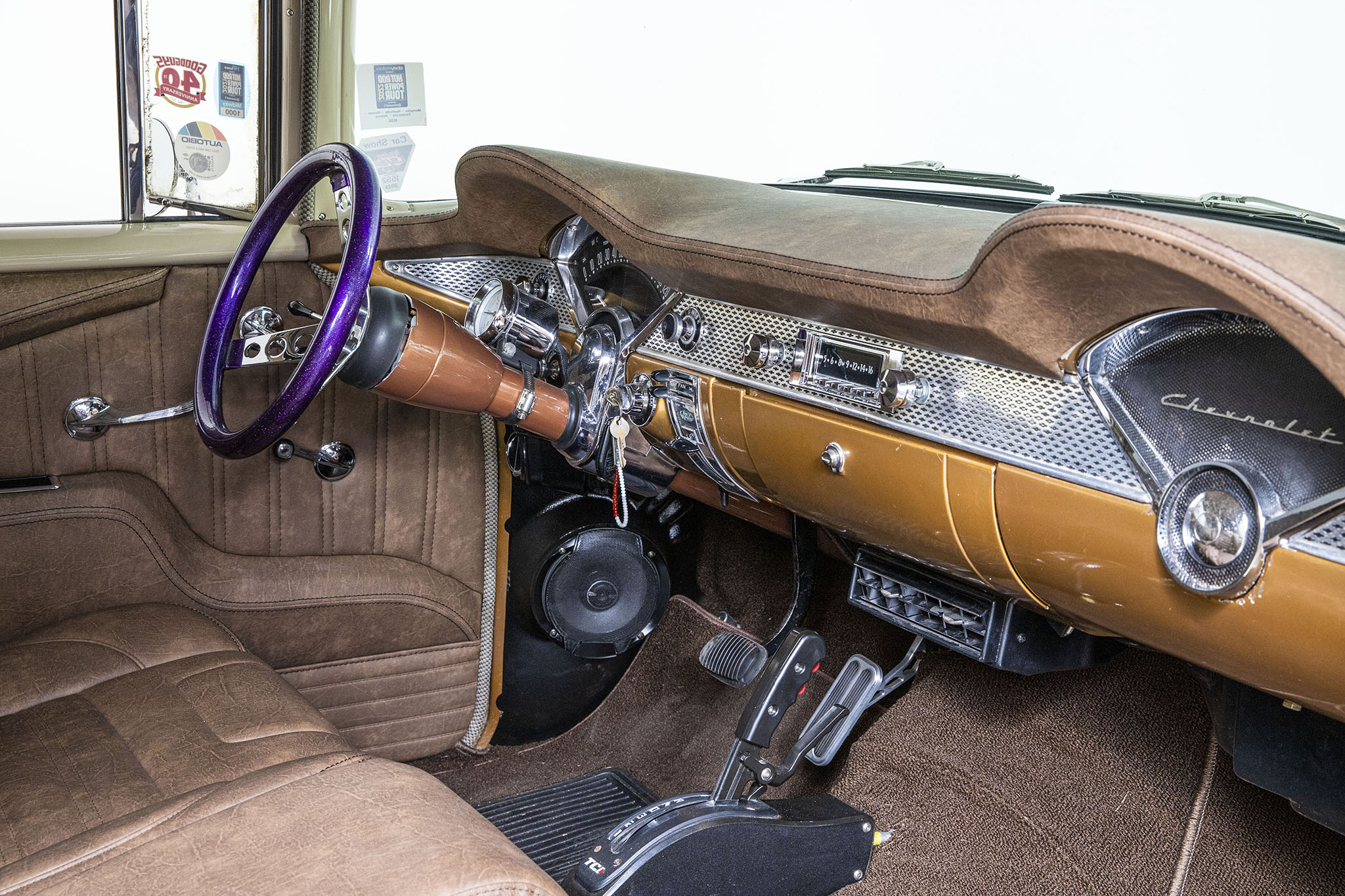 When Jeff is cruising down the road he's staring at a set of Dakota Digital RTX gauges that are powered by a complete bumper-to-bumper Painless Performance wiring harness. Keeping him cool is a complete Vintage Air system and if you're driving this many miles, you have to have a good sound system! For that he relies on a RetroSound 'Long Beach' head unit that's connected to Alpine amps and speakers.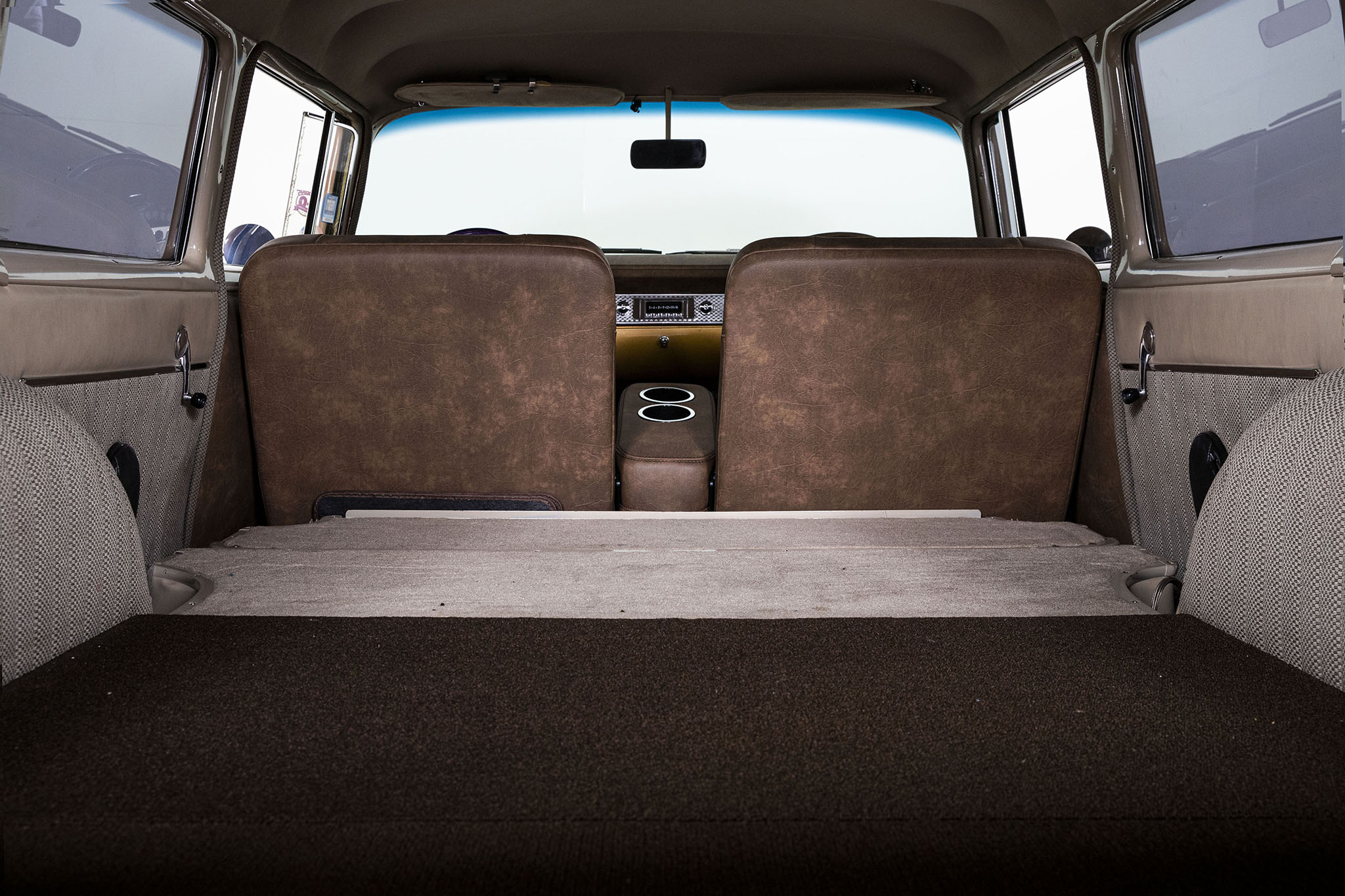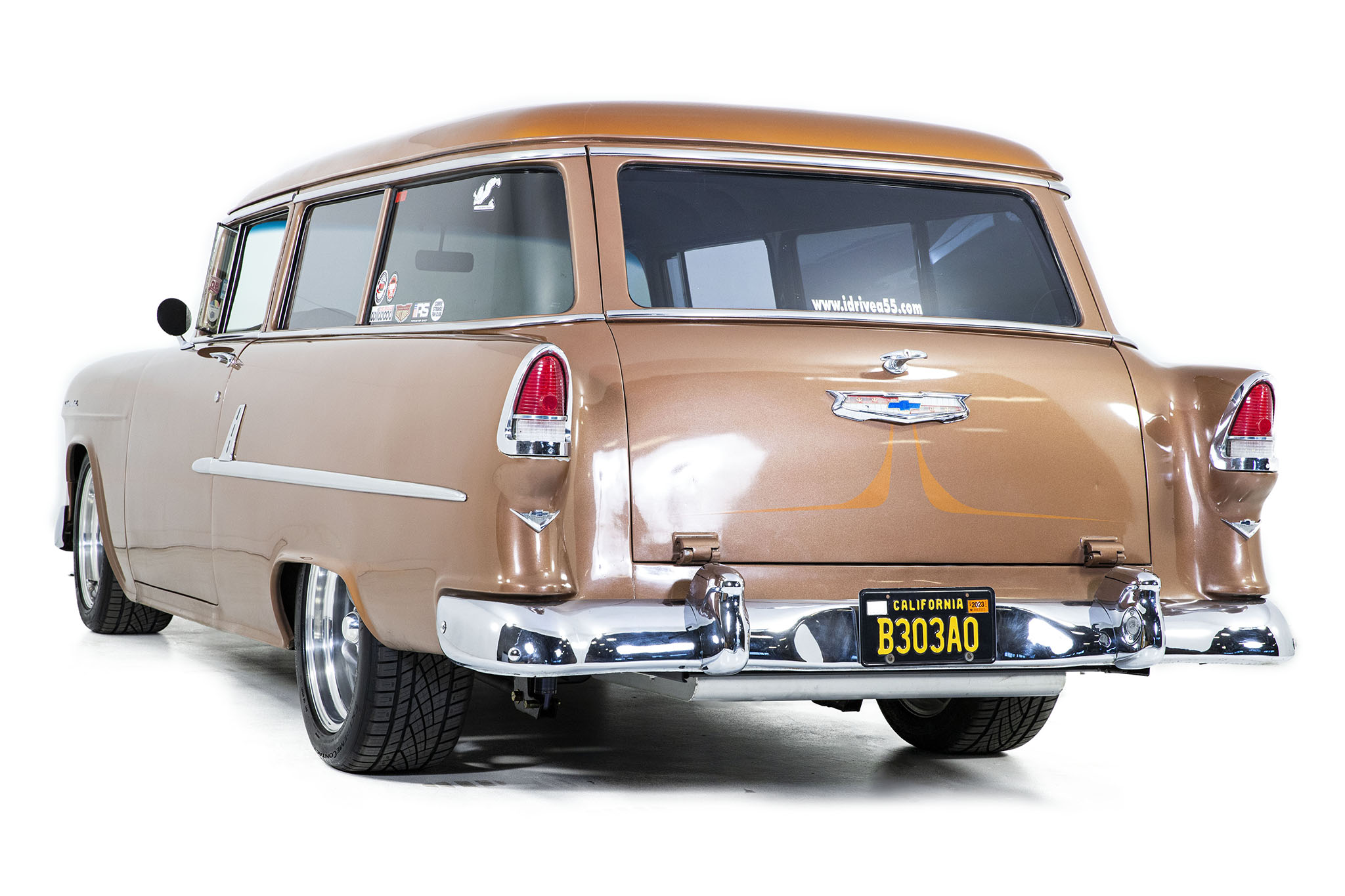 No matter where Jeff is headed next or how many miles it is - we know that Jeff will be doing it in style and comfort!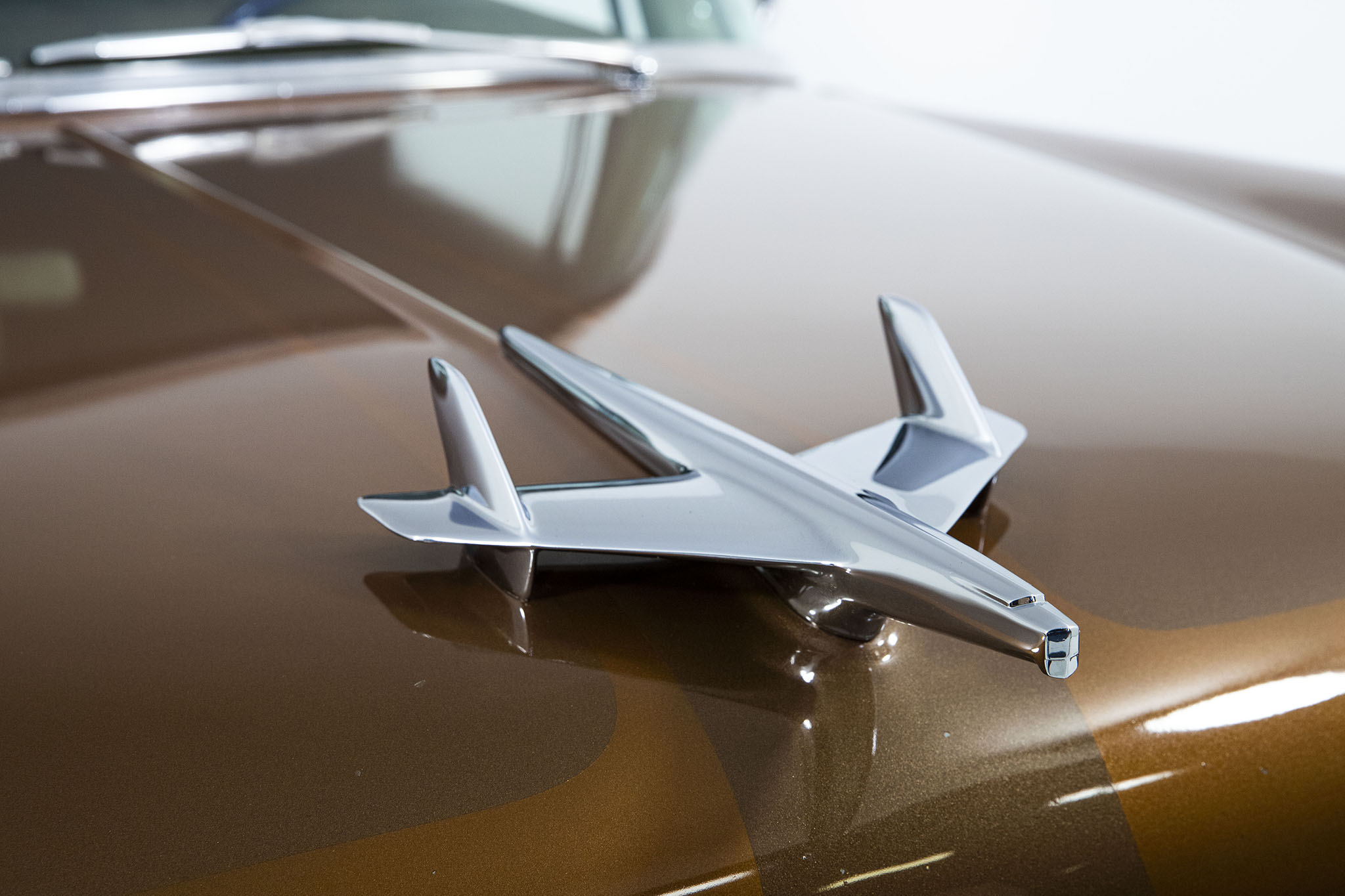 Jeff's Socials
Follow along with Jeff's travels and informative(yet quirky) commentary as he travels in his '55.