Matt de los Cobos' 1972 K5 Blazer
Matt de los Cobos from Oceanside, CA has an eye for detail. When we were recently at the Good Guys Del Mar Nationals, our TRIM Award judges spotted this 1972 K5 Blazer a mile away.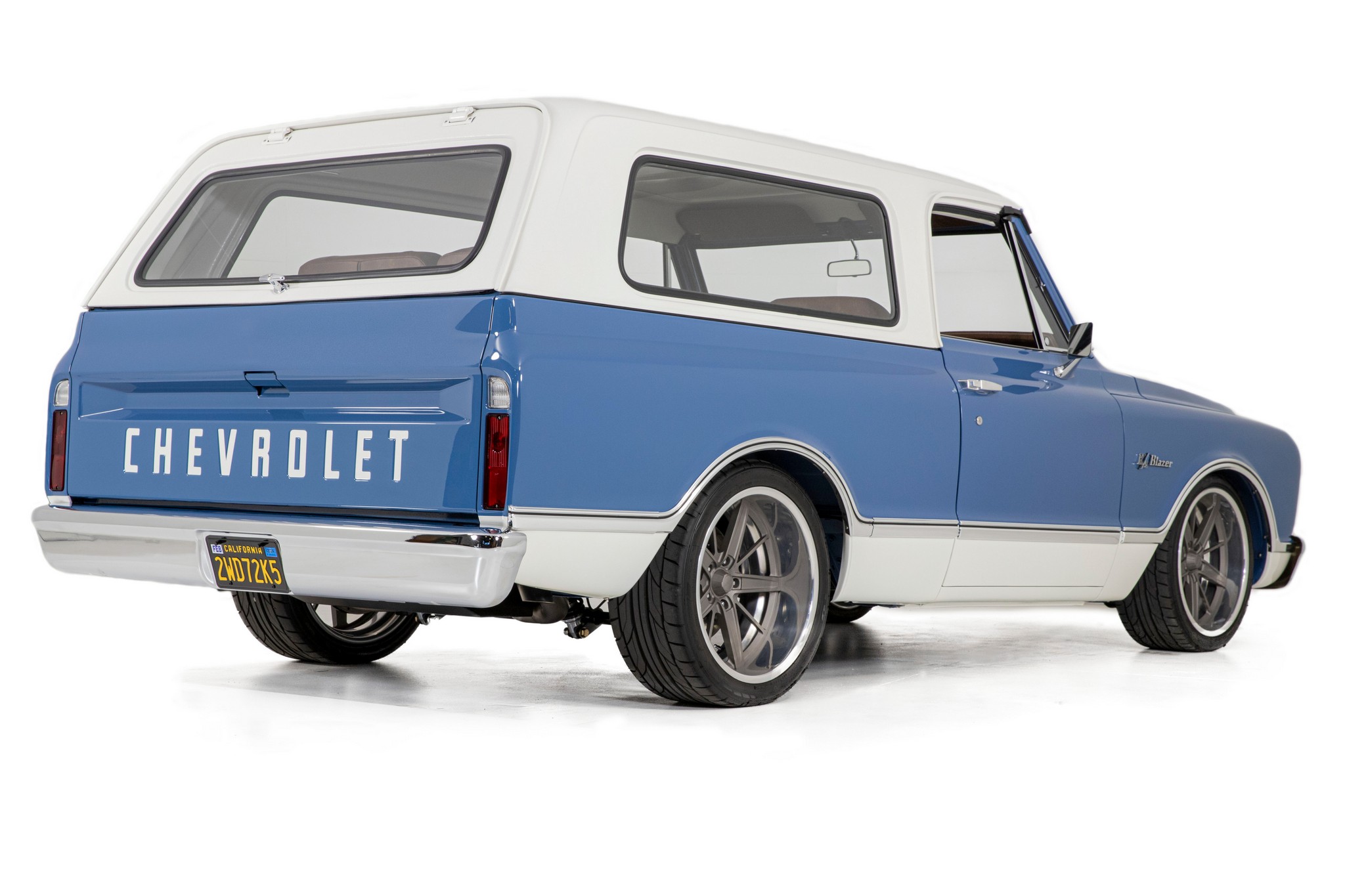 Although the judges looked over every TMI equipped vehicle at the show, they kept coming back to this one and would discover more and more things they had missed. Everywhere they looked they find trick details and subtle changes that really took Matt's Blazer over the top.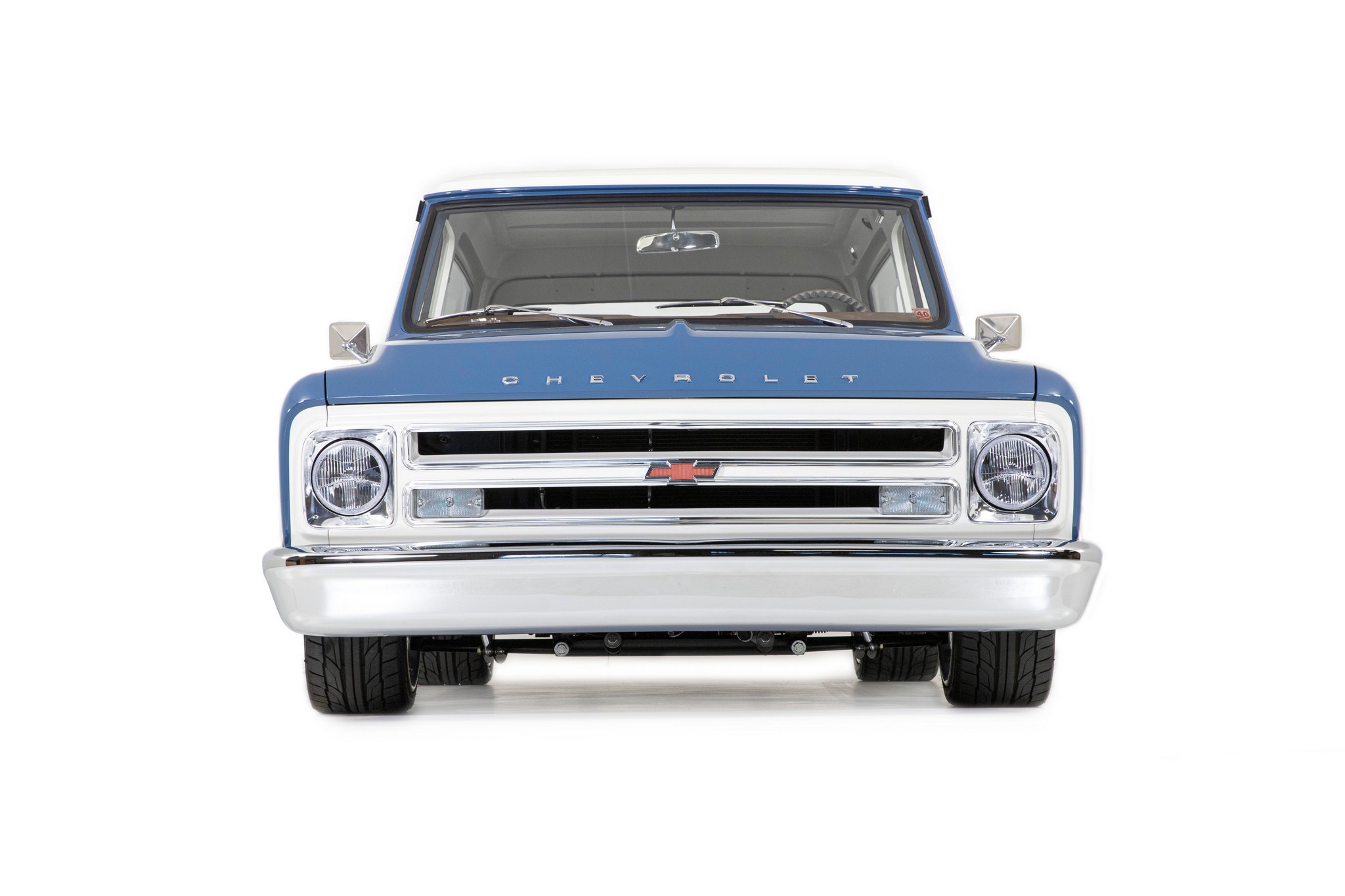 Right off the bat you might look at Matt's truck and think "that's not a 1972 Blazer, that's a 1967 front clip but they didn't make K5 Blazers until 1969!" You are 100% correct, Matt started with a 1972 K5, but swapped in a '67 front clip.
The Blazer That Never Was
This truck has undergone a 2-year nut and bolt frame-off restoration that has left no detail overlooked. The body was completely media blasted down to bare metal, and all rust was removed, with panels properly patched and seam-sealed.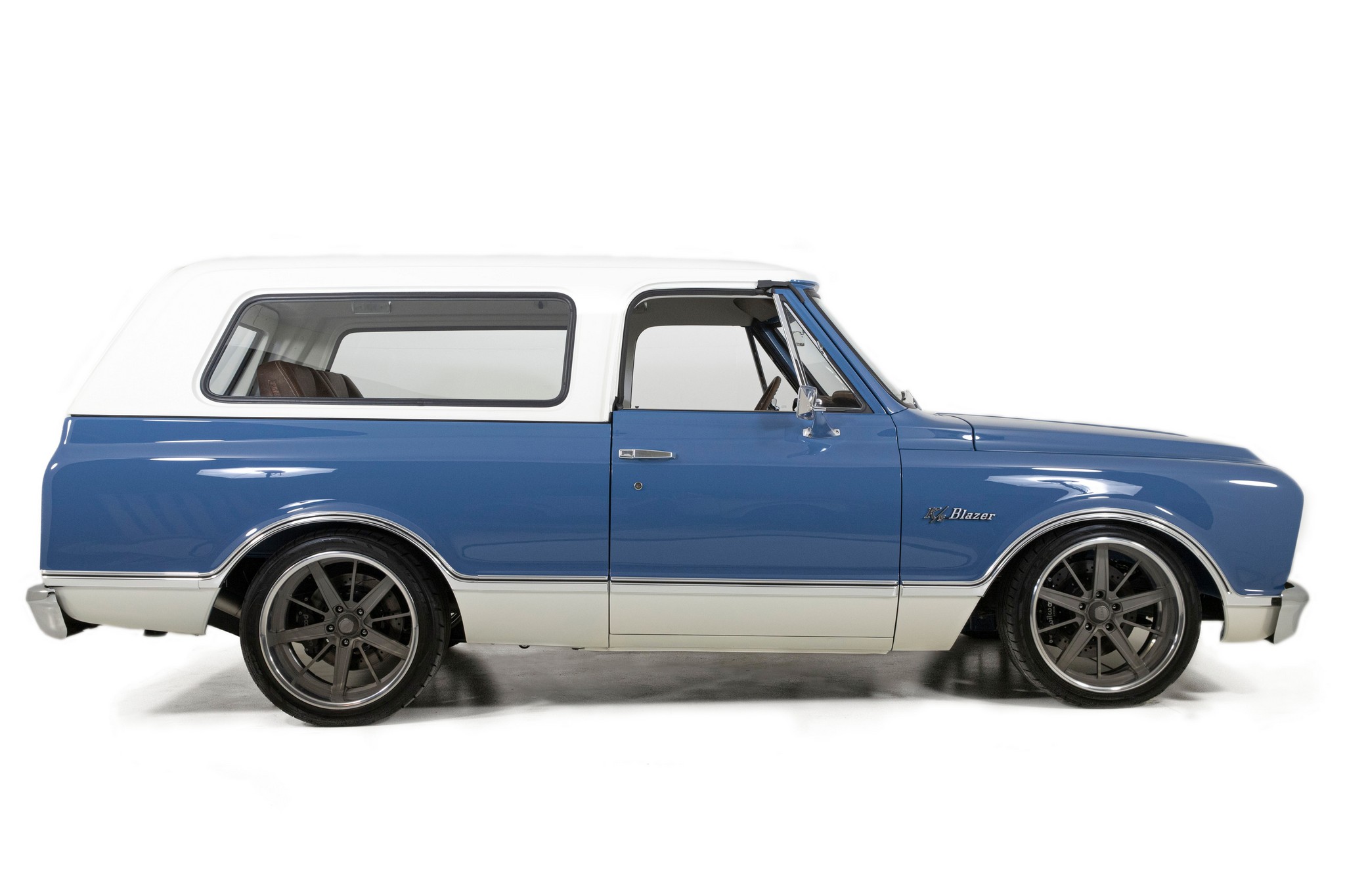 The front clip of this truck is an OEM 1967 sheet metal, and the rear side marker lights have been shaved for a sleek look. The firewall and core support have been smoothed, and all body panels have been fully gapped for a seamless appearance. The truck has been painted in a stunning two-tone Toyota "Cavalry Blue" and classic GM white using PPG Envirobase, and all painted surfaces have been fully cut and buffed to perfection. All this works was completed by Hot Rods and Custom Stuff in Escondido, CA.
For undercoating, Matt chose color matched Raptor liner, which is both durable and aesthetically pleasing. The doors feature Trique Mfg. Altman door latches that have been welded and body worked into the door for a clean look - another small detail. The hood is secured with a Trique Mfg. Altman hood latch and black billet hood hinges from CVF Racing. The tailgate latches are Tre5 Easy Close for ease of use.
The single wall removable hardtop and hatch have been completely restored and textured, with all new hardware, glass, and weatherstripping. The truck also features a new clear windshield, door glass, and vent window assemblies, as well as all new Precision brand weatherstripping and door internals and hardware.
To top it all off, the truck features polished stainless button head hardware throughout, adding an extra touch of detail and style that Matt wanted.
Exterior Tricks
Starting with the Mar-K '67-68 truck style lower side trim, this truck has been given a sleek, updated look. All new emblems and grill trim were utilized, as well as the new chrome "smoothie" bumpers.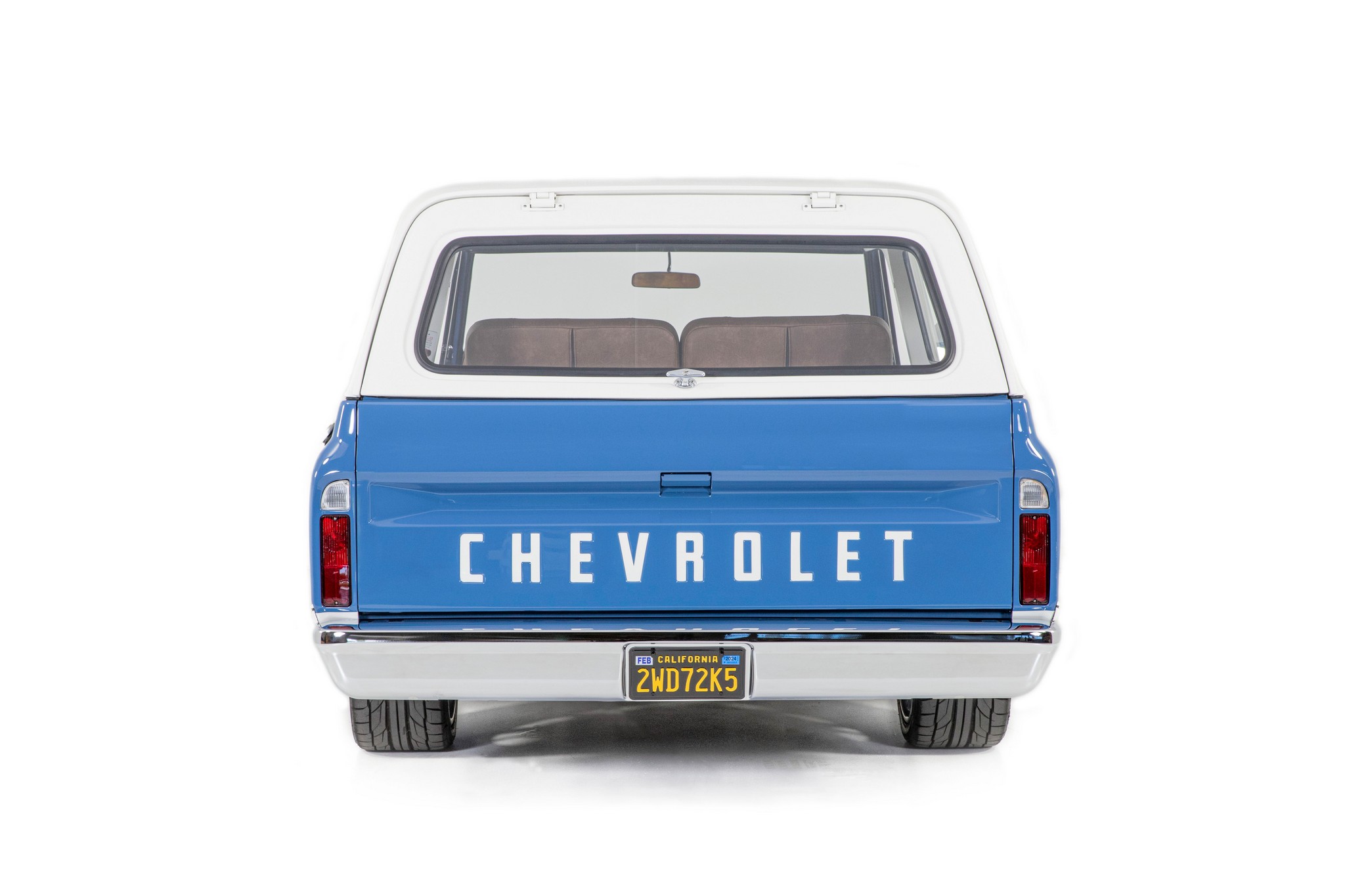 The Holley Retro bright LED headlights and parking/brake/reverse bulbs provide ample illumination for safe driving in any conditions. Just like the trim work, Matt used all new lenses, lamps, and assemblies to complete the lighting package. The wipers and wiper motor have also been replaced, ensuring clear visibility during inclement weather.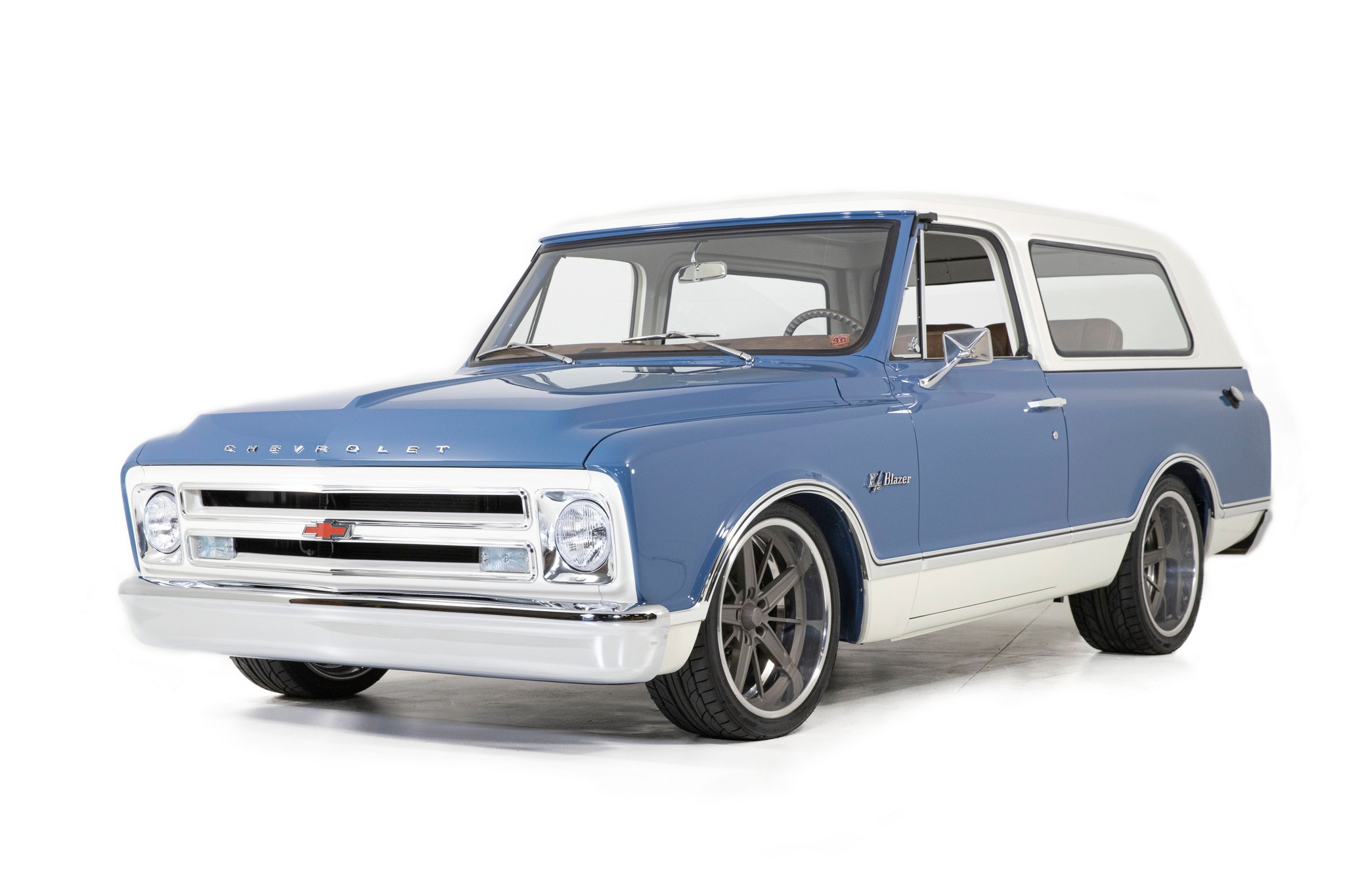 The GSI polished billet door handles add a touch of style, while the original restored side mirrors provide a glimpse into the truck's rich history. Even the gas cap and filler neck have been replaced, leaving no detail overlooked in this restoration.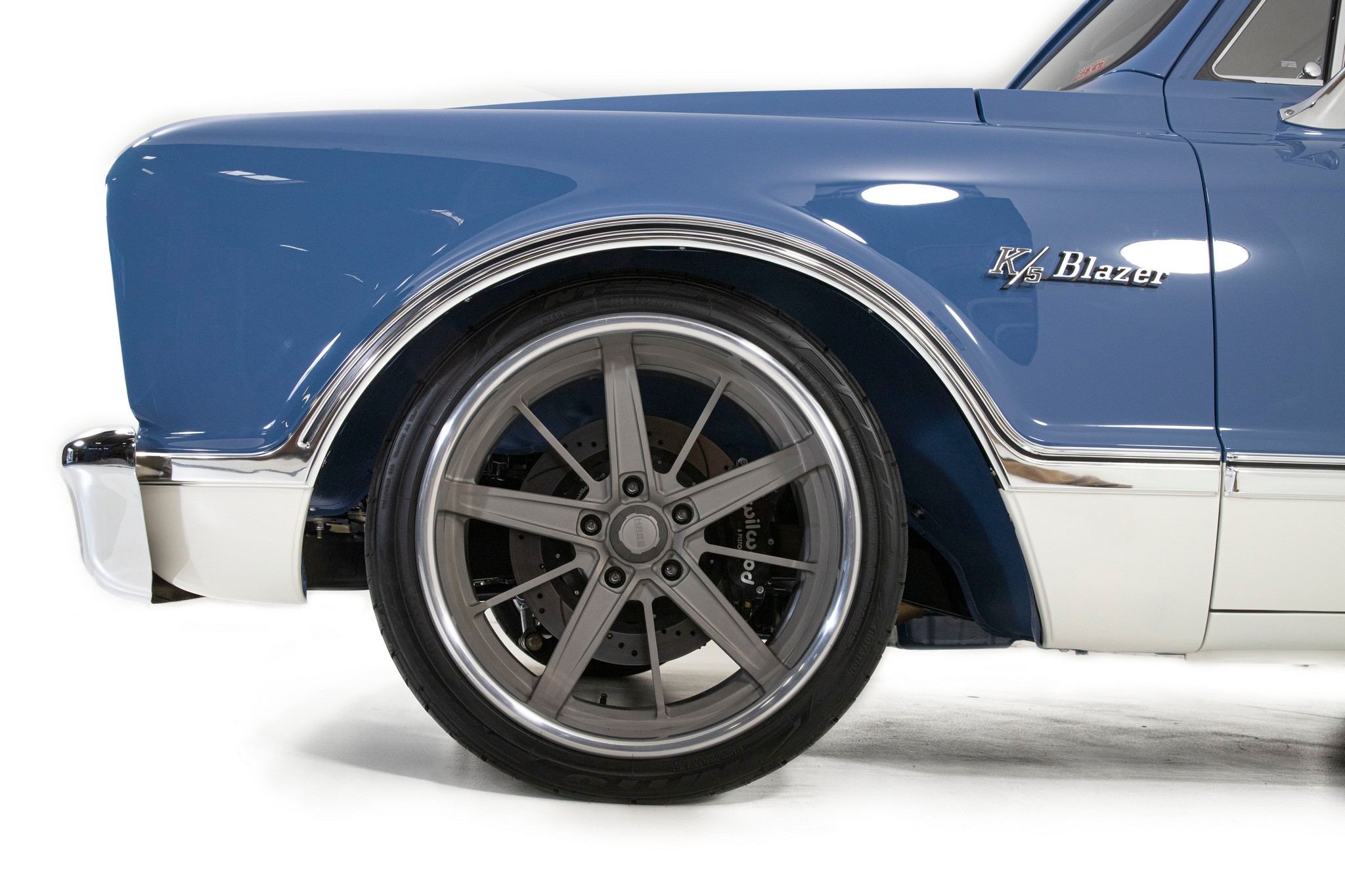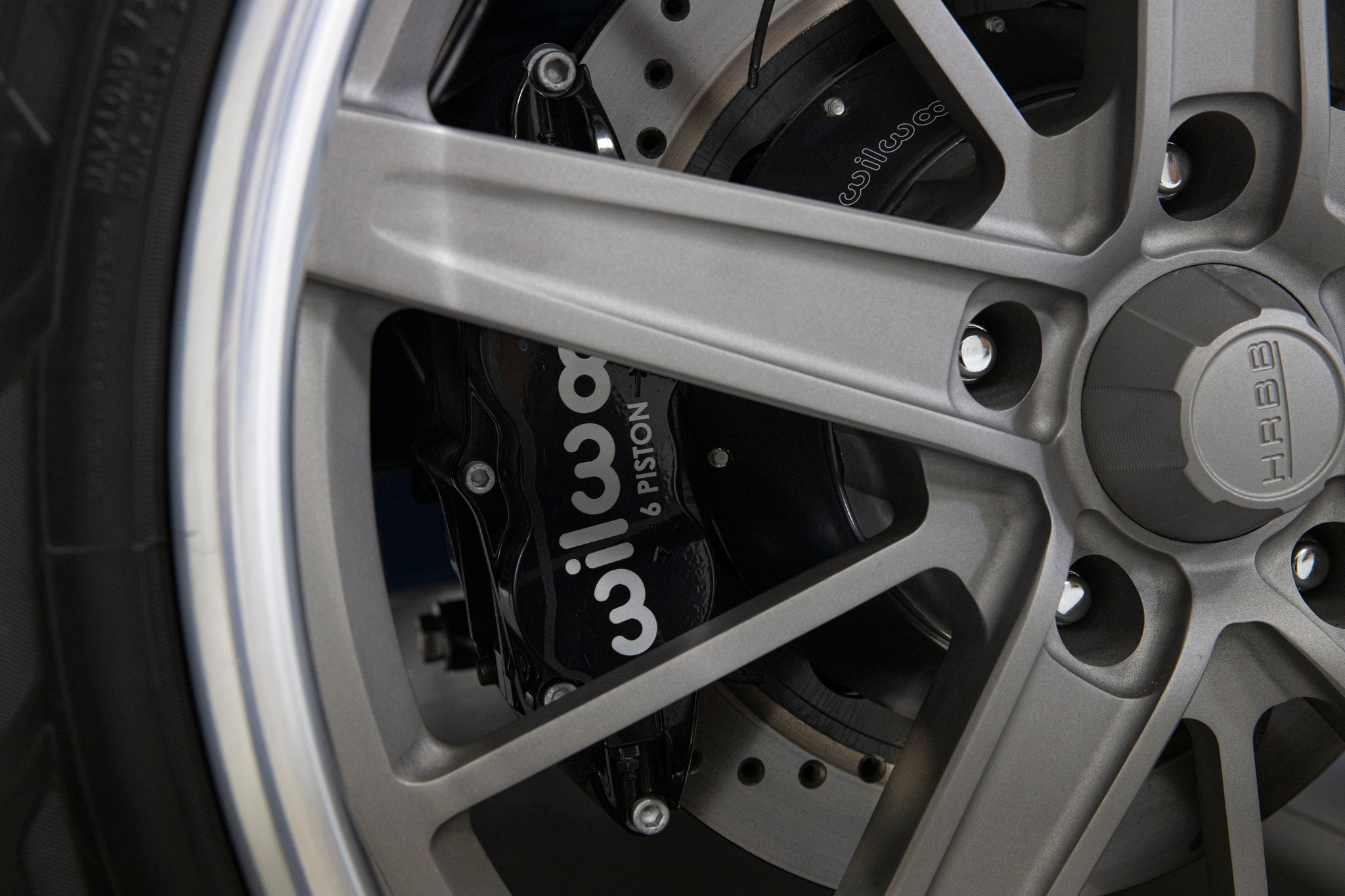 Choosing the right wheel and tire package was just as important to complete the overall look and theme of the build. Matt turned to Chris Coddington at Hot Rods By Boyd to create a custom set of 20" forged 2-piece HRX-3 wheels, finished in cerakote charcoal with a polished lip, 9" wide in the front, 10" in the rear and custom backspacing to get the look and fit just right. The aggressive and sleek style of the Nitto NT555 G2 tread pattern was an easy choice to wrap up the package - 255/35R20 up front and 285/35R20 out back.
Stance Is Everything
Leaving no bolt unturned, Matt also has as much detail to the underside of this Blazer as the top side. The Scotts Hot Rods complete chassis is powder coated in a sleek semi-gloss black finish and the mandrel-bent 2x4 frame rails are 100% TIG welded and secured with all grade 8 hardware. The tubular upper/lower A-arms feature machined rod ends and Wilwood Pro Spindles. The Aldan American 13" single adjustable coilovers at the front (500lb) and rear (450lb) provide a smooth ride, and the 1'' solid front sway bar ensures stability on the road.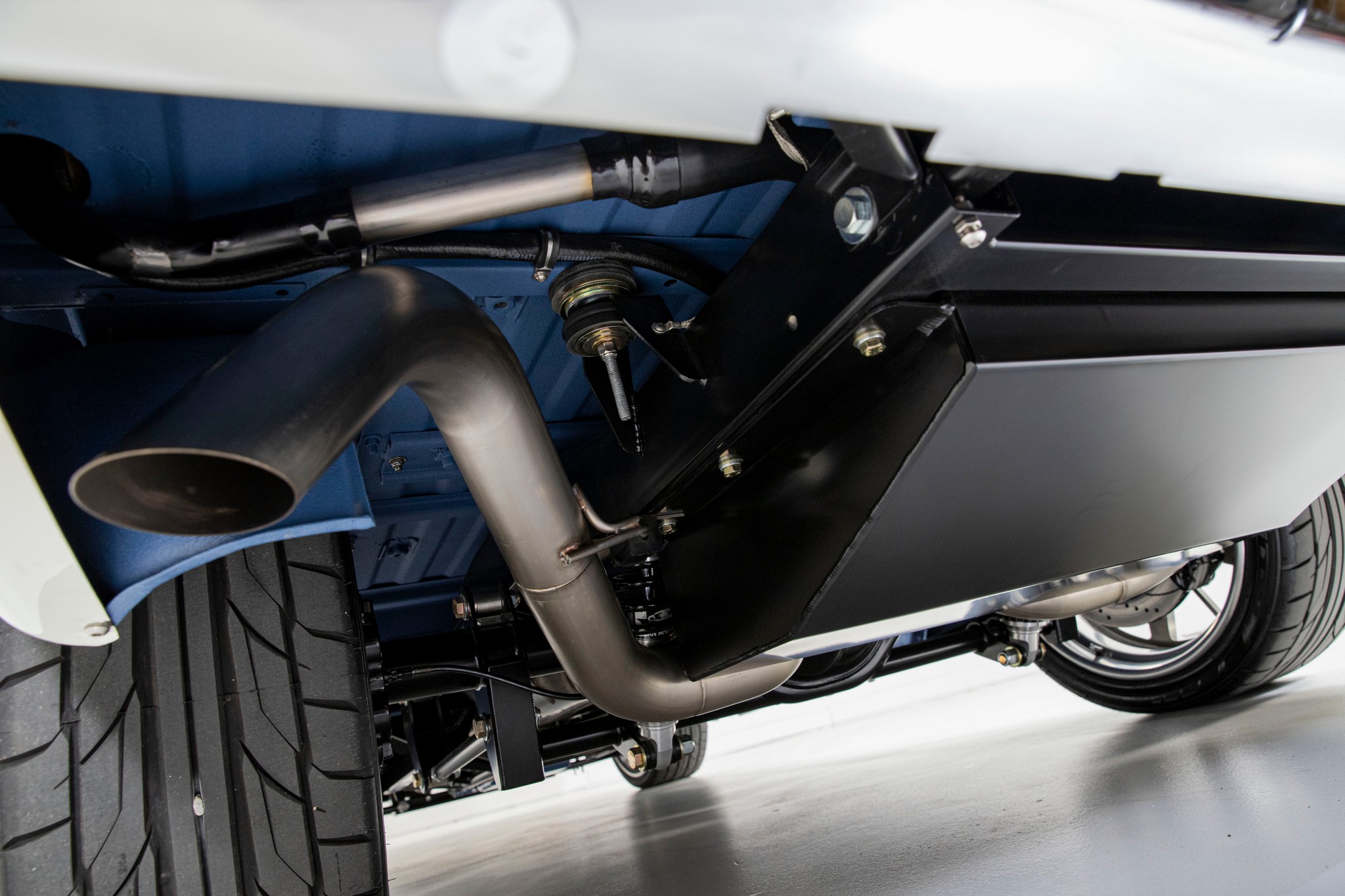 The braking system is equally impressive. The Wilwood brakes consist of 14" drilled/slotted 2-piece rotors and 6-piston (front), 4-piston (rear) calipers with an internal parking brake. To ensure maximum safety and convenience, the vehicle is also equipped with an E-stopp electronic parking brake, Wilwood master cylinder, and Hydratech Hydroboost system. The stainless steel plumbed brake hardlines with billet line clamps complete the braking system.
Other trick features on the underside of Matt's Blazer include the custom LS motor mounts and adjustable dropout transmission mount. The Moser 9" rear end with Moser 31 spline axles and 5 on 5" bolt pattern boasts 3.70 gears with a TruTrac Posi. The Scotts Hot Rods Aluminum EFI Fuel tank with sending unit, Tanks Inc. PA-4 fuel pump, and Aeromotive fuel pressure regulator ensure plenty of fuel is supplied to the engine. The stainless steel plumbed fuel hardlines with billet line clamps and custom flexible Teflon fuel lines with black anodized -AN fittings complete the package.
The steering system on this Blazer has been upgraded as well to match the rest of the chassis. A new power Rack and Pinion has been installed, giving Matt a more precise and responsive feel. Custom flexible Teflon power steering lines with black anodized -AN fittings have been added to ensure reliability and durability, while also providing a sleek look.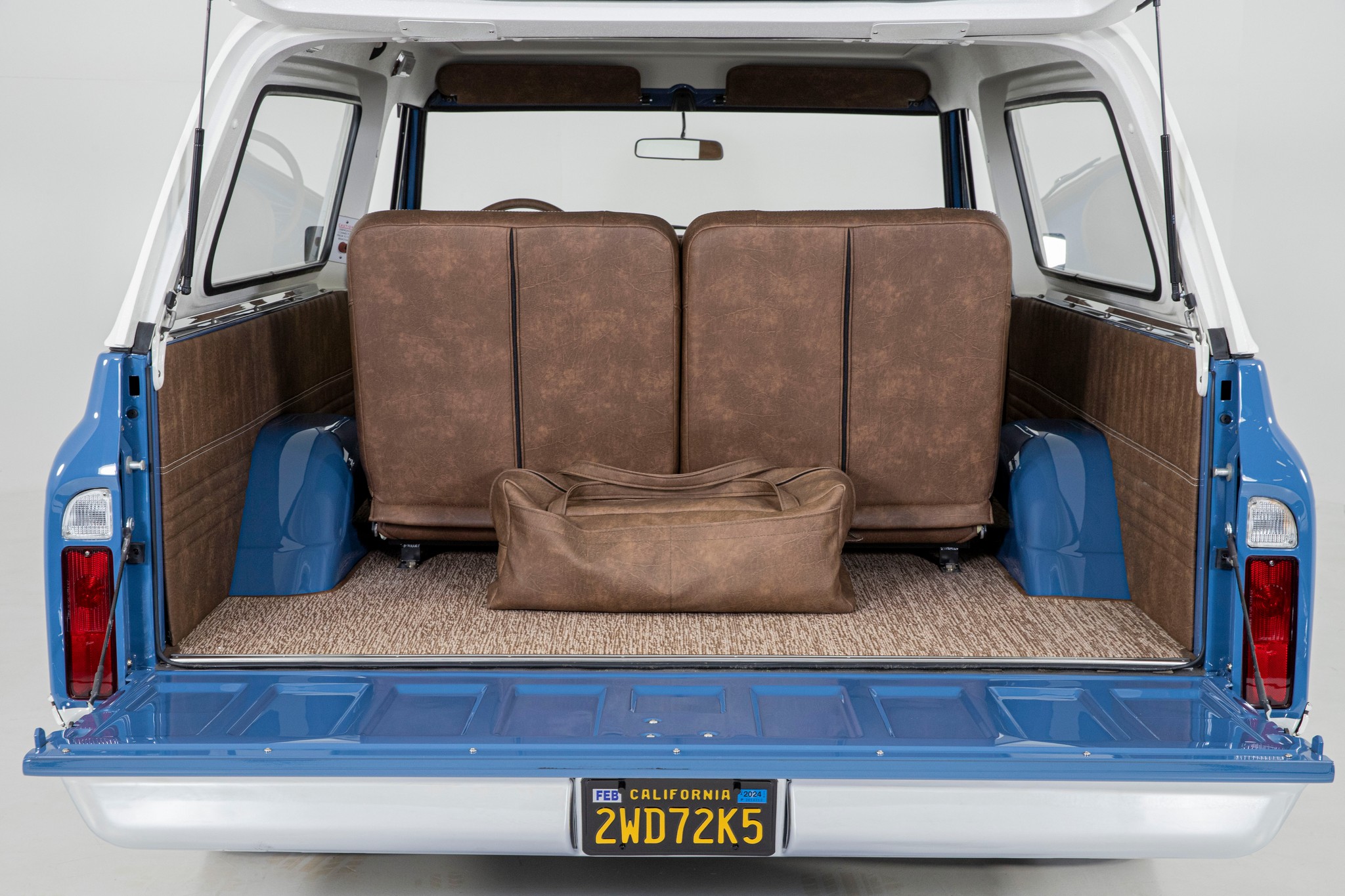 The KRC Elite series power steering pump is another component of the steering system, providing smooth and consistent power steering performance. The pump is designed to be both efficient and reliable, ensuring that this Blazer is always easy to steer and handle.
The steering column has also been upgraded to an Ididit column shift, tilt steering column and body color matched with black billet knobs. This provides a comfortable and ergonomic driving position, while also adding a touch of modern style to the classic vehicle. The Flaming River billet U-joints and polished stainless steering shaft finish off the steering column.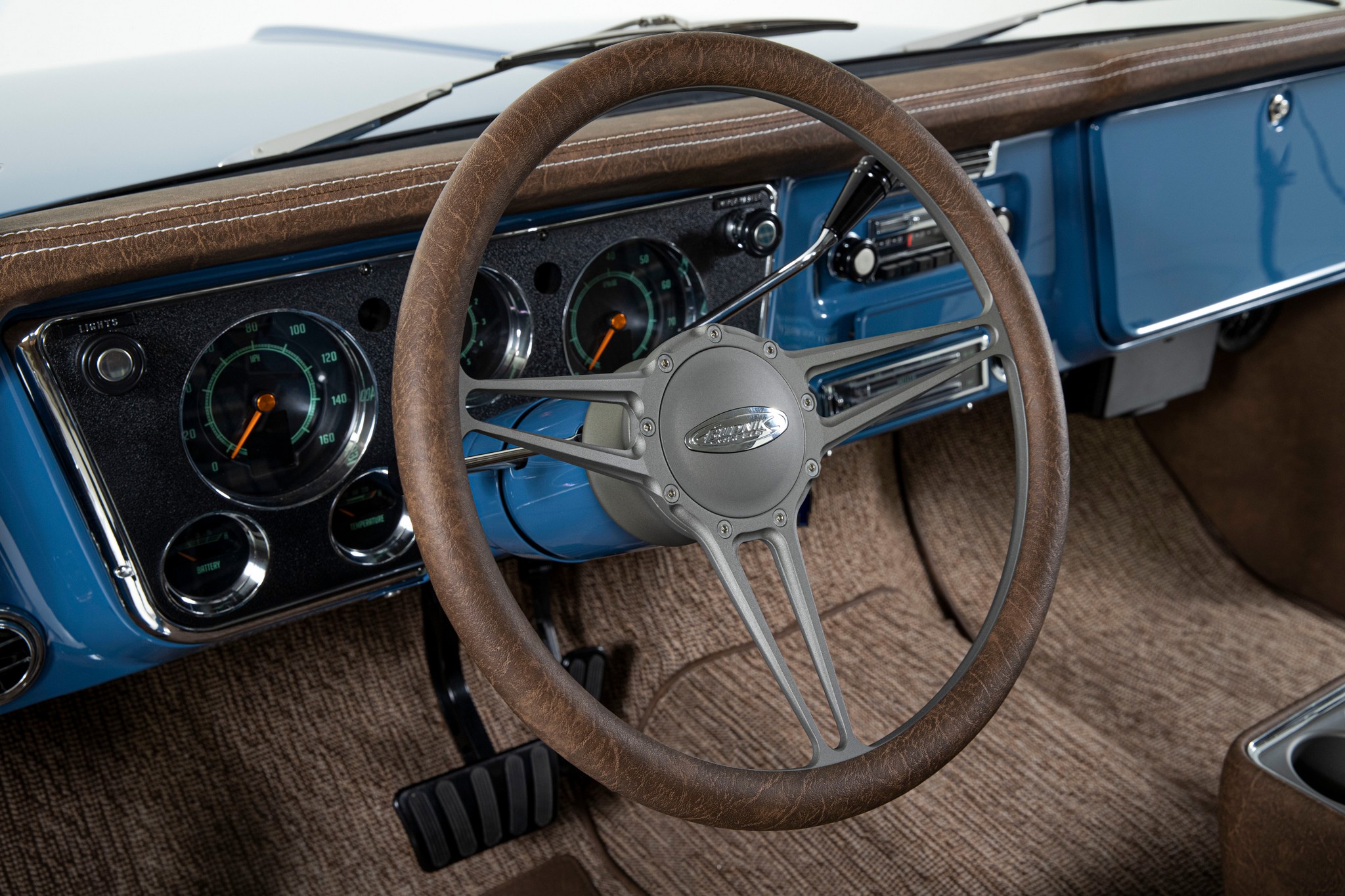 The steering wheel was also upgraded to a custom Budnik "Velocity" 15.5" steering wheel in cerakote charcoal. Wrapped in matching distressed brown vinyl, the steering wheel is both stylish and functional.
Under Hood Power
Under the hood of Matt's K5 is a GM Performance Connect and Cruise LS3 all aluminum 6.2L 376ci/525 hp engine, paired with an automatic 4L70e transmission and Hughes 2500 stall converter. A custom driveshaft and stand-alone custom wiring harness make for a seamless performance. The Holley Sniper EFI low-rise aluminum intake manifold with fuel rails, Holley Chevrolet scripted valve covers, and Lokar black billet oil/trans dipsticks provide more details.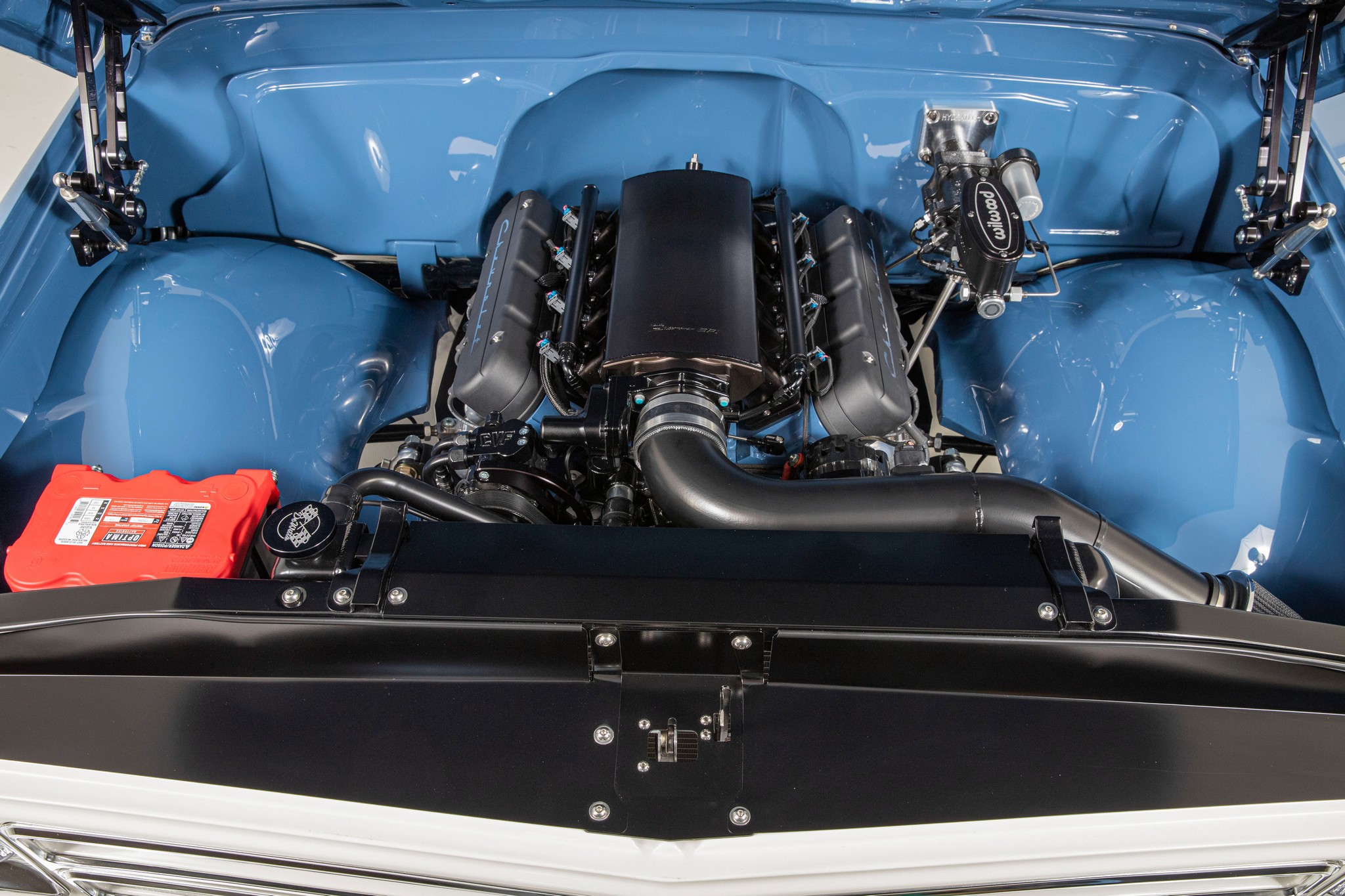 The Lokar shift linkage adds a touch of class, while the CVF Racing black Wraptor mid-mount front serpentine accessory drive with water pump, power steering, alternator, and AC while ensuring optimal performance.
The custom 4" aluminum intake tube with 4" Spectre air filter is a custom set up and match with the Hooker 1-7/8" stainless ceramic coated mid-length headers. The headers are bolted to a full custom mandrel-bent TIG welded 3" stainless exhaust, 100% hand-brushed finish with H-pipe and V-bands. The dual 18" stainless Magnaflow mufflers provide an unmistakable roar that will turn heads wherever Matt goes.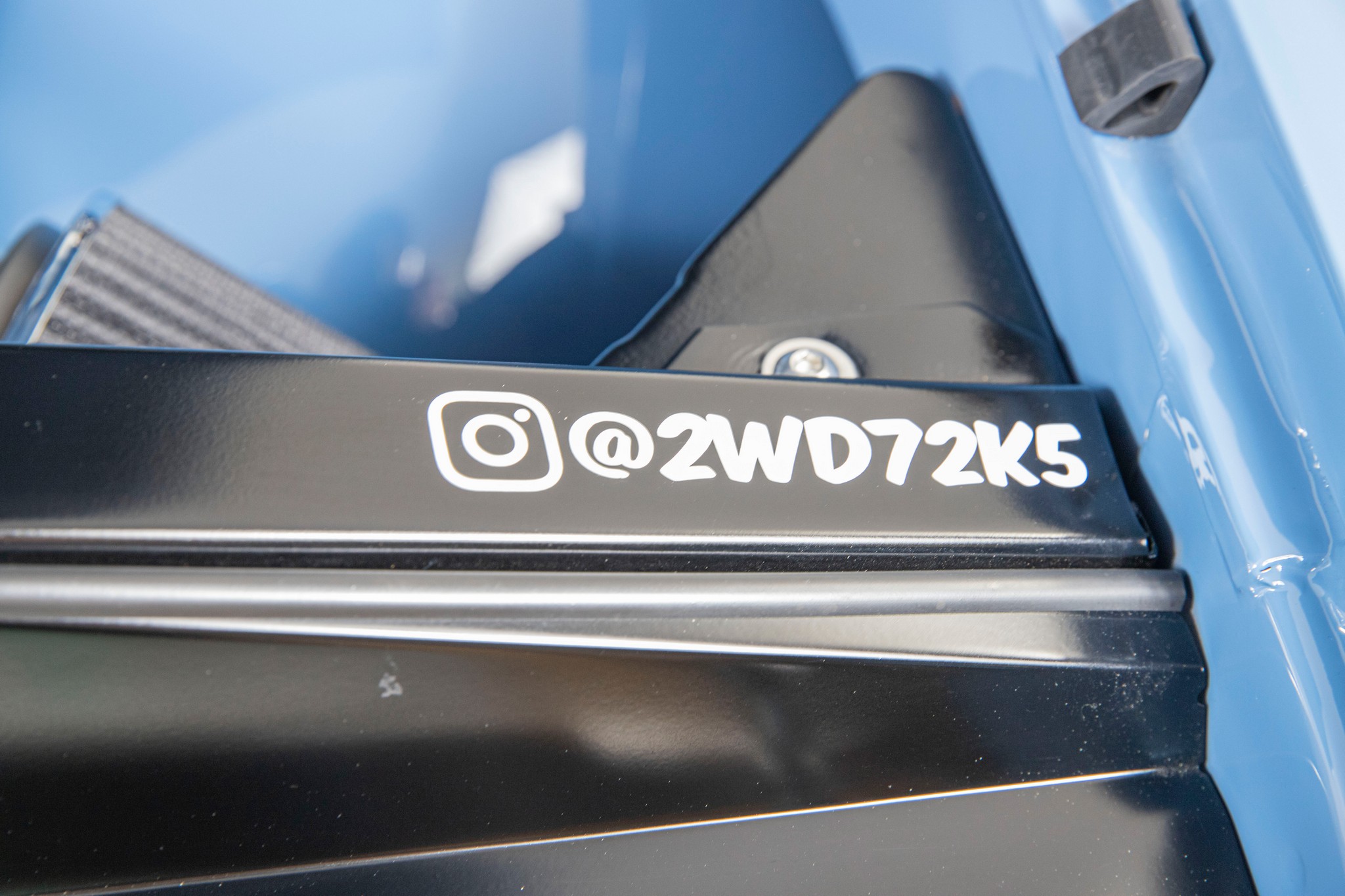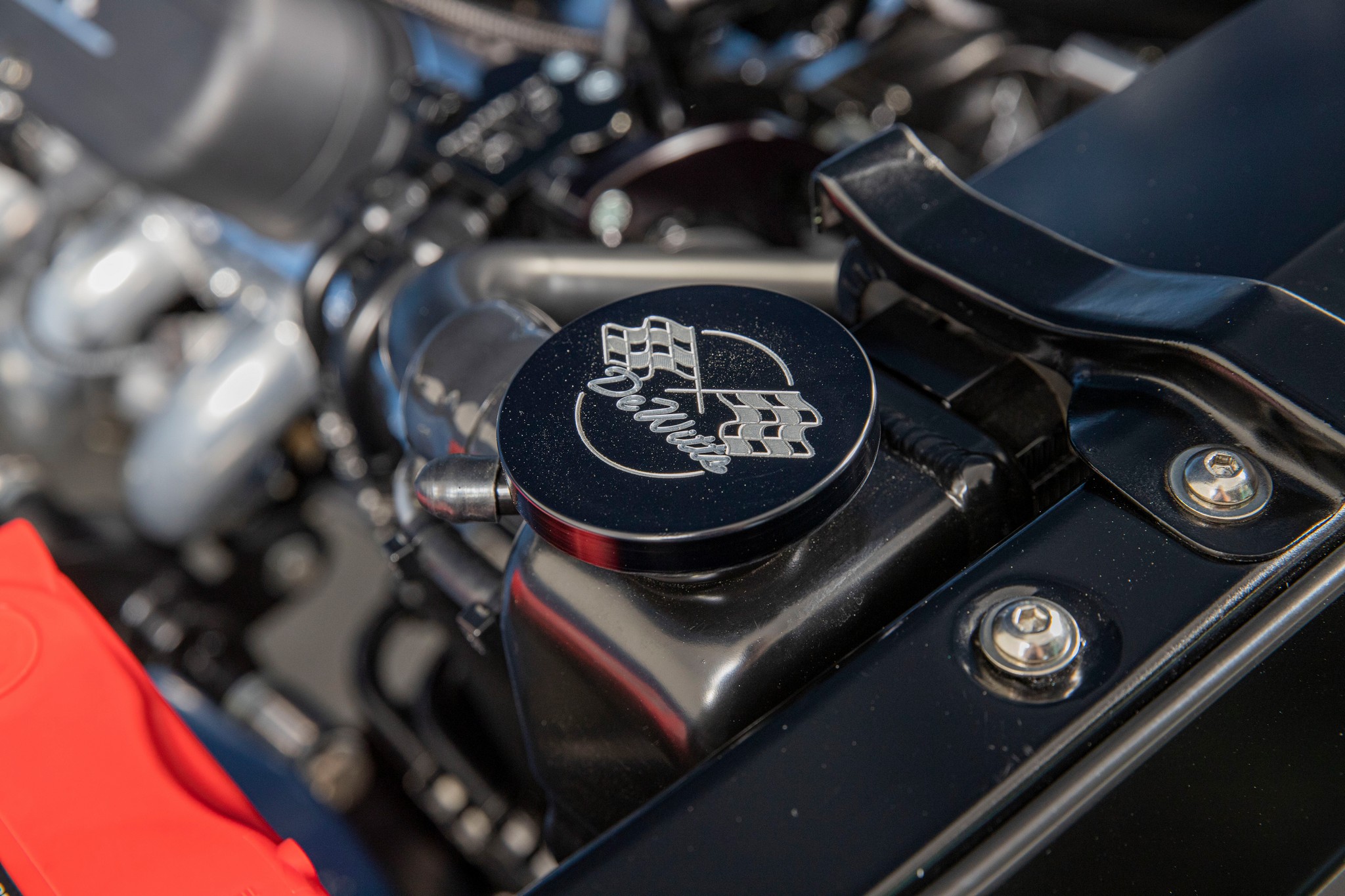 The cooling system is a top-notch Dewitt's LS swap dual core aluminum radiator in black finish and dual 11" SPAL electric fans. Custom 1.5" stainless upper/lower radiator tubes, powder-coated with shrink fittings, and custom stainless hardlines and flexible Teflon transmission lines with black anodized -AN fittings ensure trouble-free cruising.
Brown and Blue
On The Inside, Matt didn't settle for a boring stock interior. He knew that the interior had to match not only the performance of the K5, but the level of detail as well. Matt had a vision for the entire truck, not just the outside or under the hood. He called up Old Town Upholstery in Escondido, CA to execute his vision.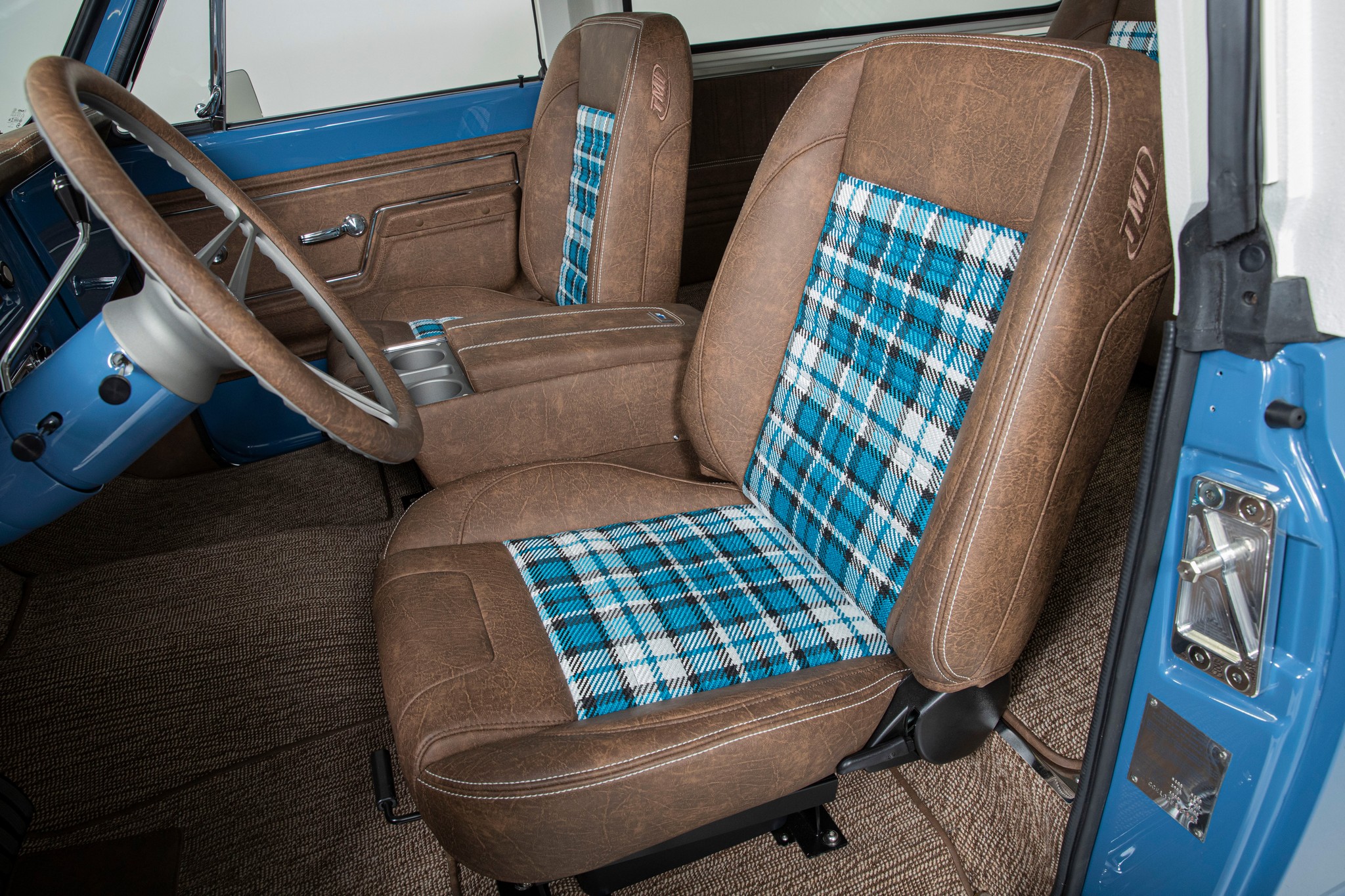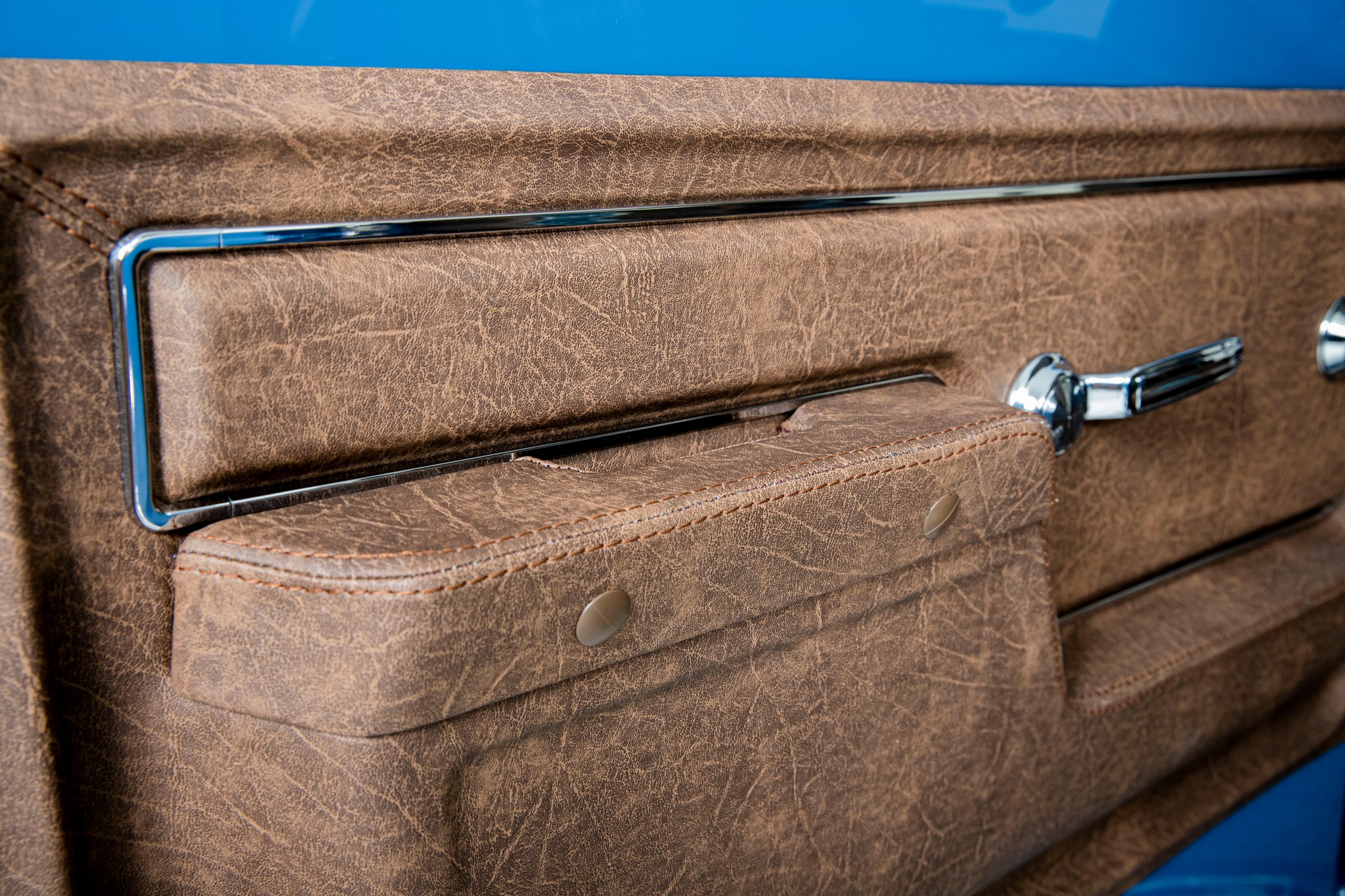 To start, the truck was wired with Coach Controls "Coach-1" full vehicle wiring kit. In the dash, a set of Dakota Digital RTX gauges provide clear and accurate readings of all the vehicle's vital signs. And with the Dakota Digital BIM and GSS modules, Matt has access to a wealth of information, all easily accessible through the sleek, modern interface.
The ECM, fuse panel, relays, and all modules have been custom mounted and hidden under dash, ensuring a clean and uncluttered look. The Optima Red Top 800CCA group 78 battery provides reliable power to the vehicle, and all custom power/ground wires are designed to withstand the rigors of the road.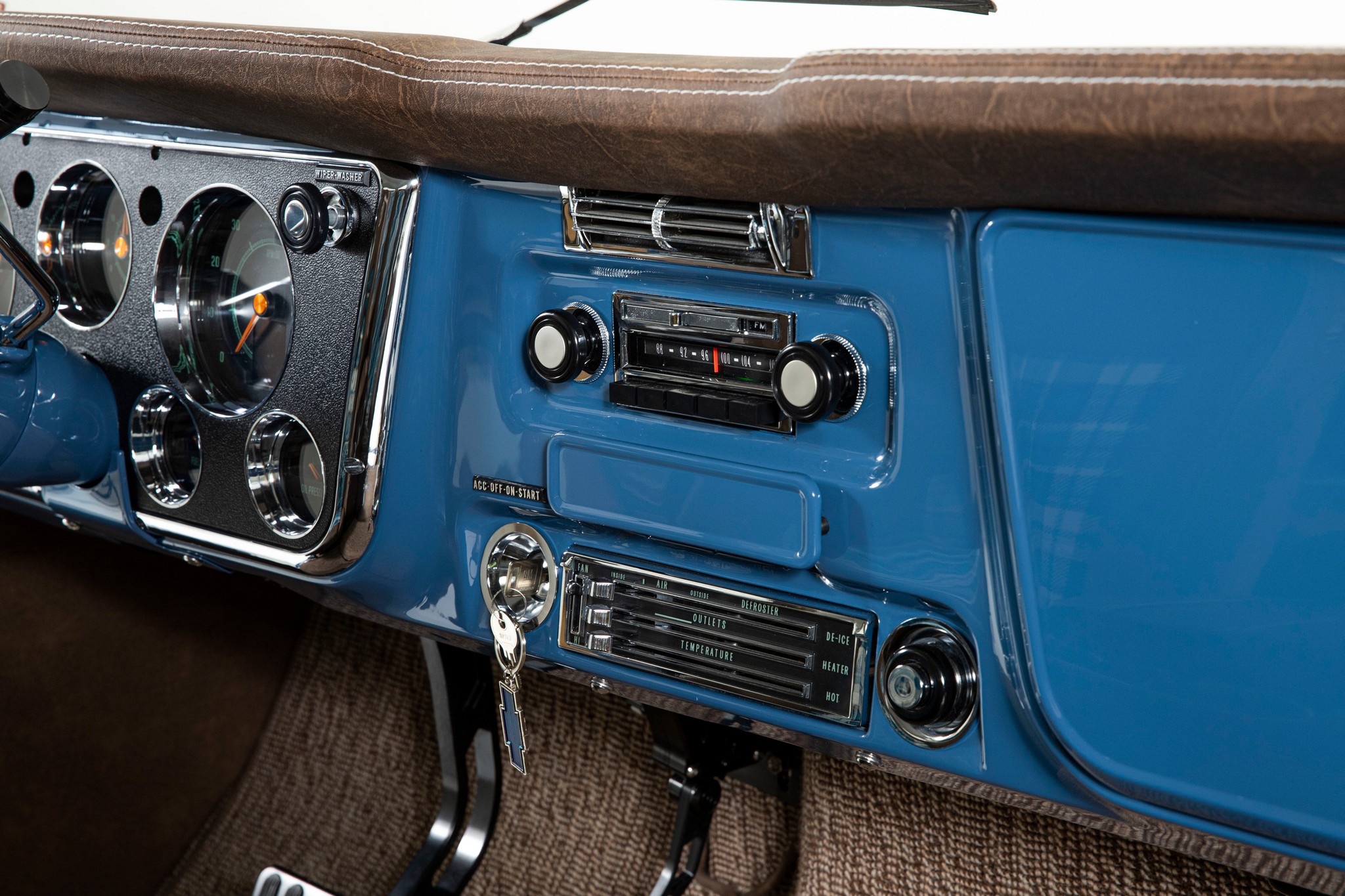 The Vintage Air Gen IV AC system has custom ran lines, fittings and bulkheads, ensuring maximum efficiency and reliability. The AC control panel has also been replaced with a new, modern unit.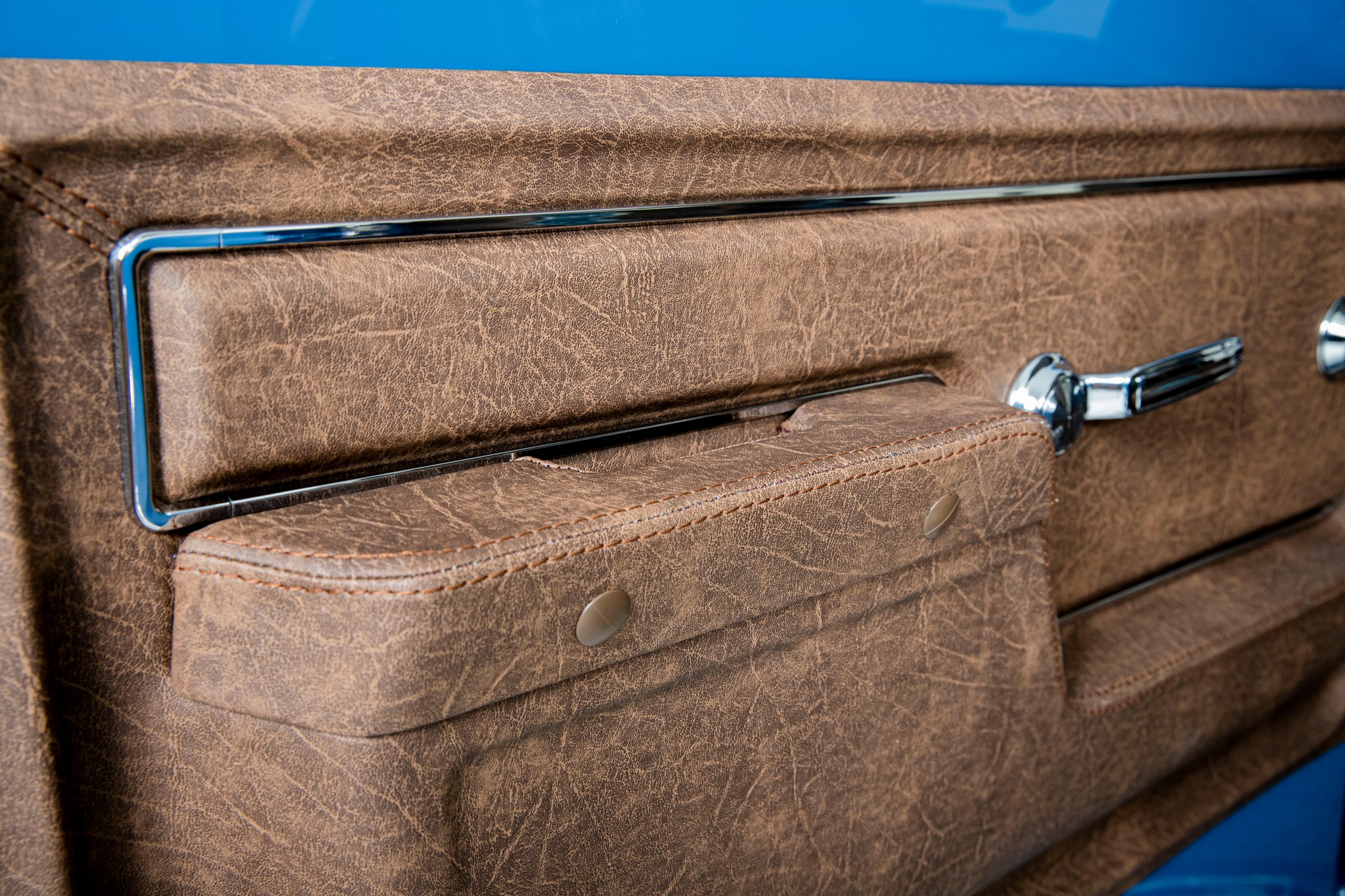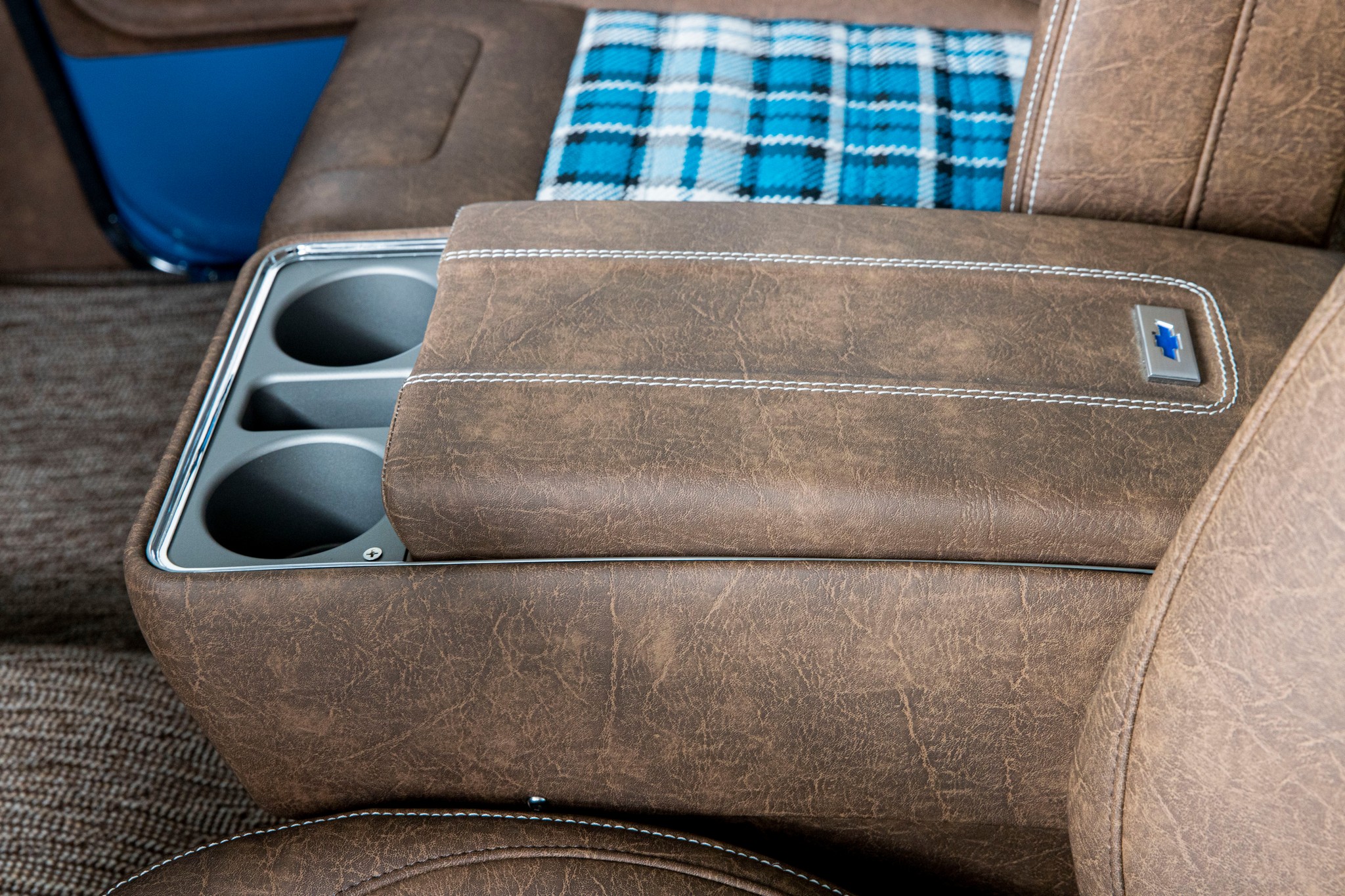 Inside the cabin, the attention to detail is impressive, with almost a full TMI interior. Matt started with a set of TMI Universal Pro-Classic bucket seats in the front, stitched up in our Y-509 Distressed Brown Vinyl and Y-3415 Blue Plaid inserts. In the rear is one of our TMI 48" wide bench seats that received the same upholstery treatment as the front seats. The seats are complemented by matching TMI dash pad, visors, and rear quarter panels in the same distressed brown, creating a cohesive and stylish look throughout the cabin.
Custom wrapped original door panels with polished original trim, new door handles and window cranks, and a custom wrapped original center console with a charcoal cerakoted billet cup holder and locking gun safe are just a few of the other modifications that have been made to the interior. The cabin is completed by custom wrapped kick panel speaker enclosures, a custom Relicate German square weave carpet and floor mats in "Honey Brown", and new polished stainless door sill plates and front/rear carpet hold down strips.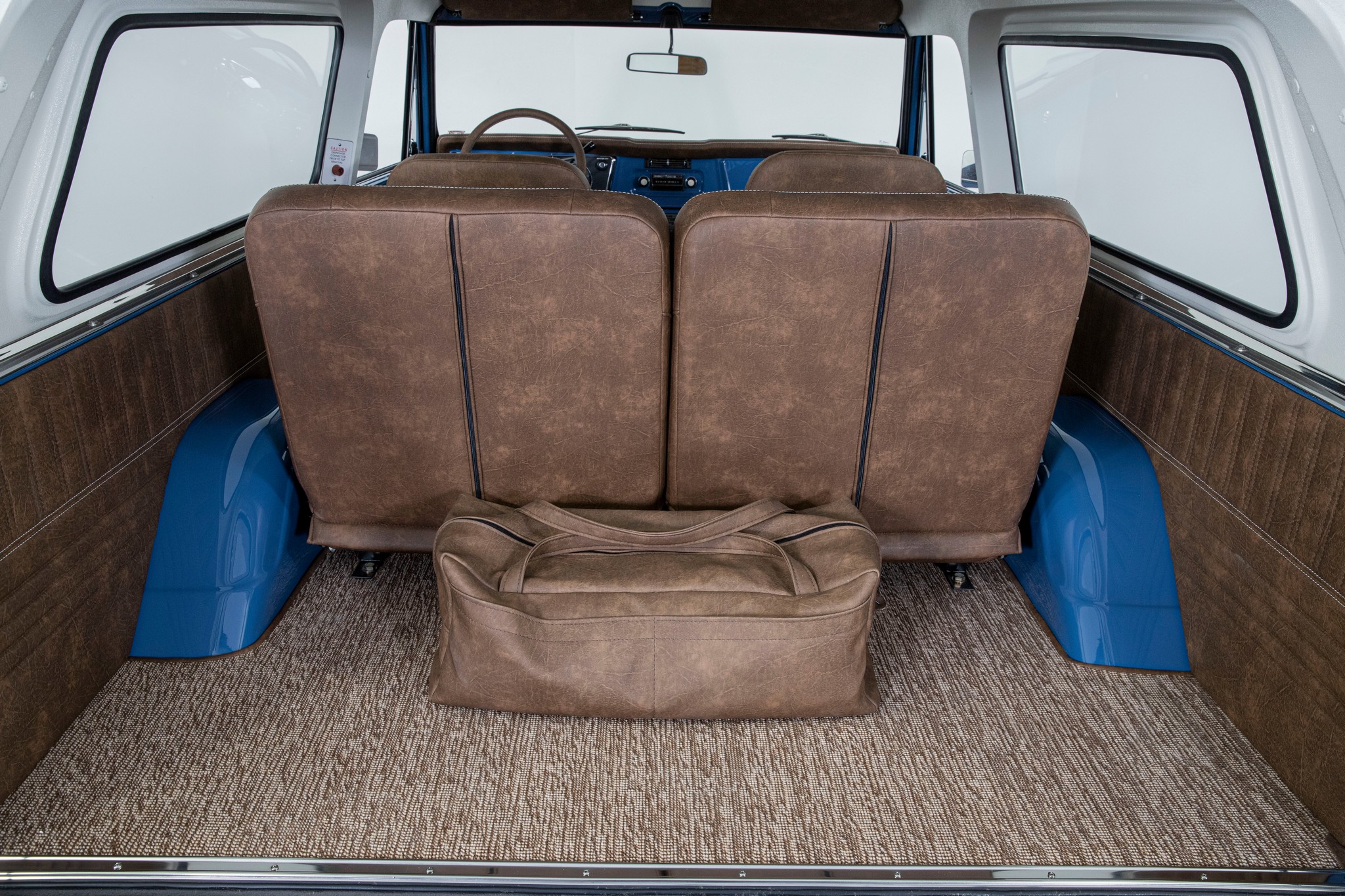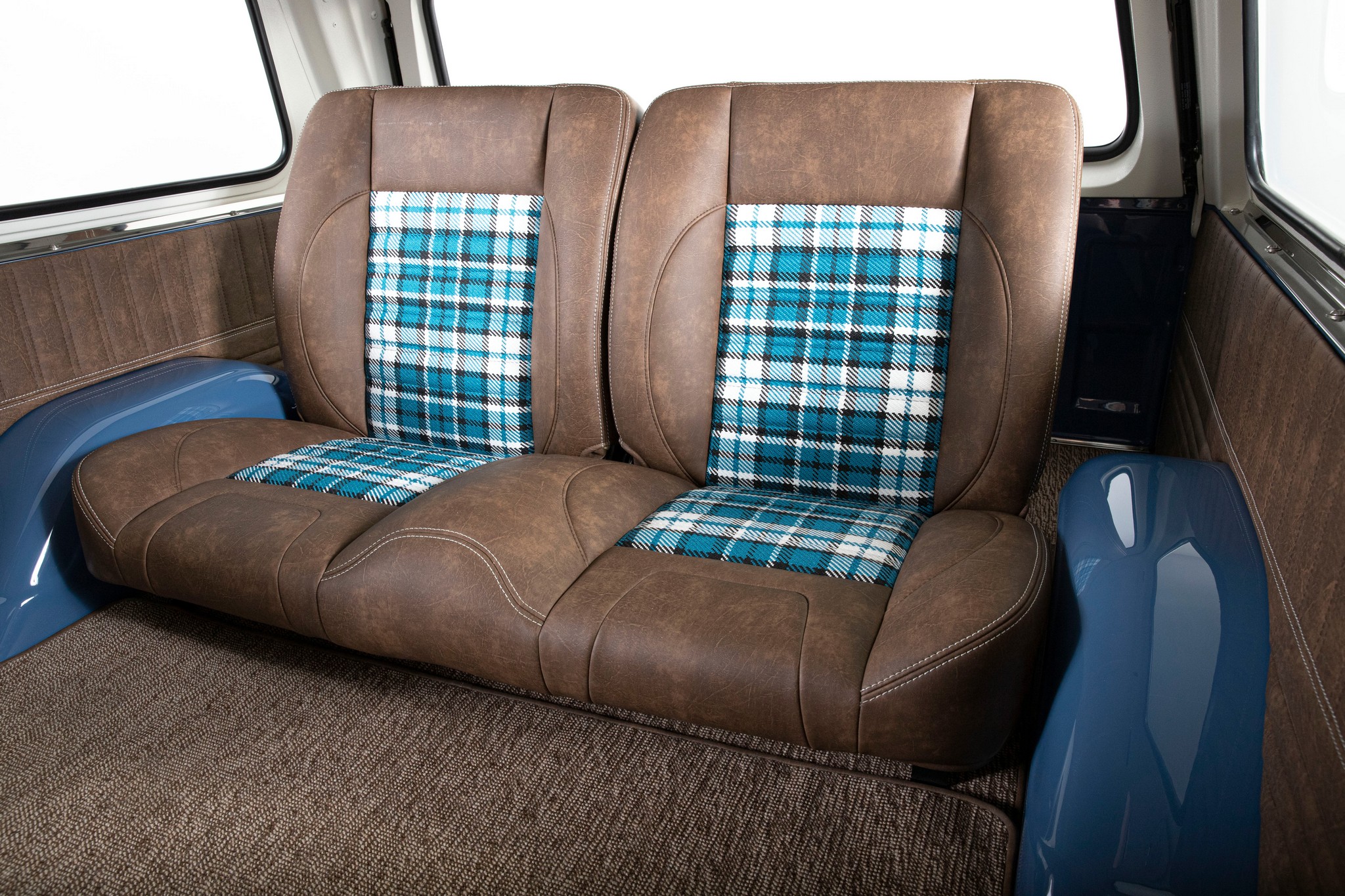 In terms of audio equipment, Matt chose top-of-the-line components to provide the tunes. The Antique Automobile Radio handmade reproduction AM/FM Bluetooth radio provides classic style with modern functionality. The Sundown Audio SFB 200.4d 4-channel speaker amplifier powers two Kicker Hideaway 46HS10" powered subwoofers under the driver/passenger seat, while a pair of Kicker 47KSC6504 6.5" coaxial kick panel speakers and a pair of Kicker 47KSC6904 6"x9" 3-way rear quarter panel speakers provide clear and powerful sound throughout the cabin.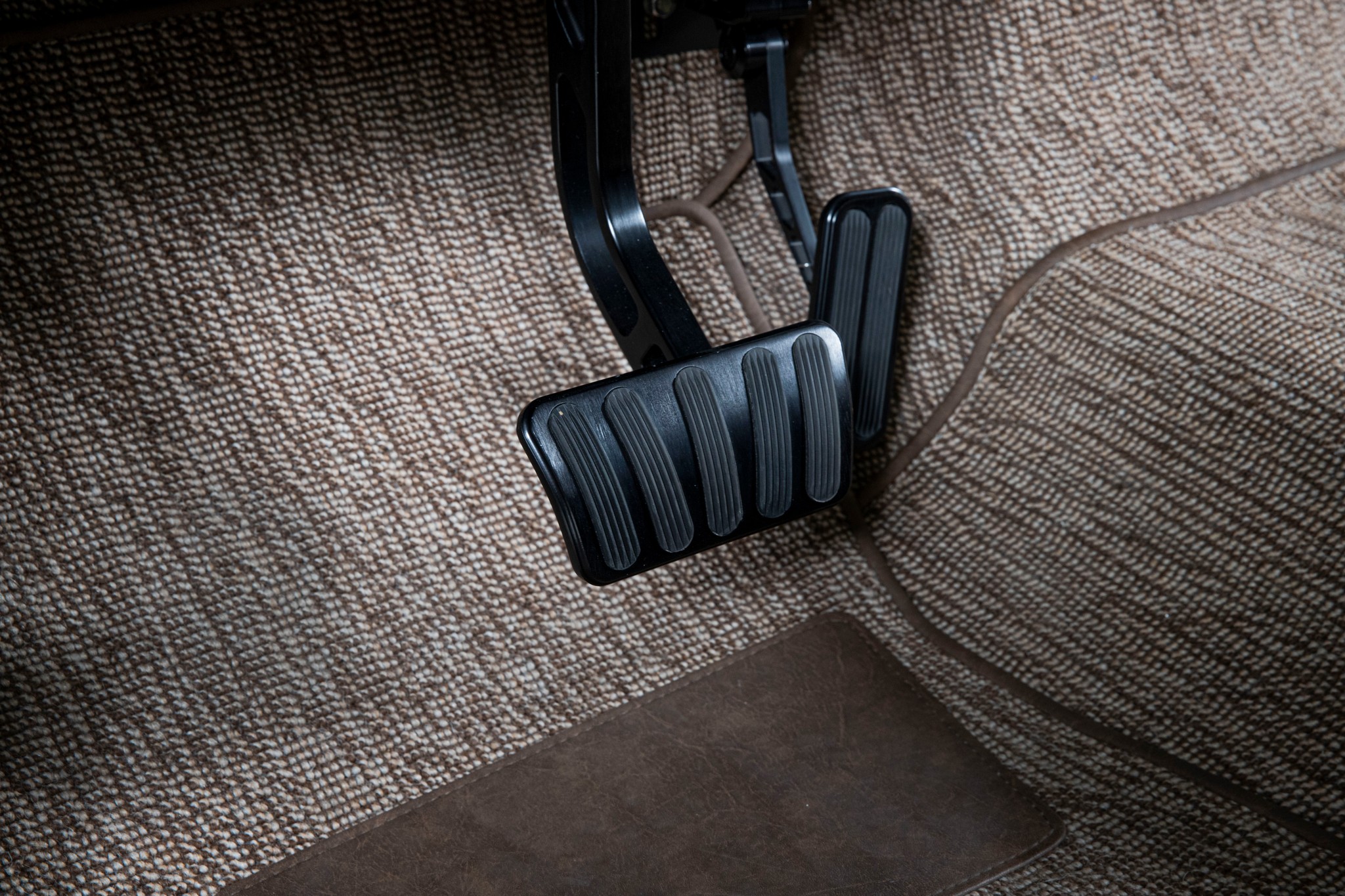 Finally, the Lokar black billet brake/gas pedals with drive-by-wire assembly ensure precise control, while the custom vintage style GM fire extinguisher is a unique and practical addition.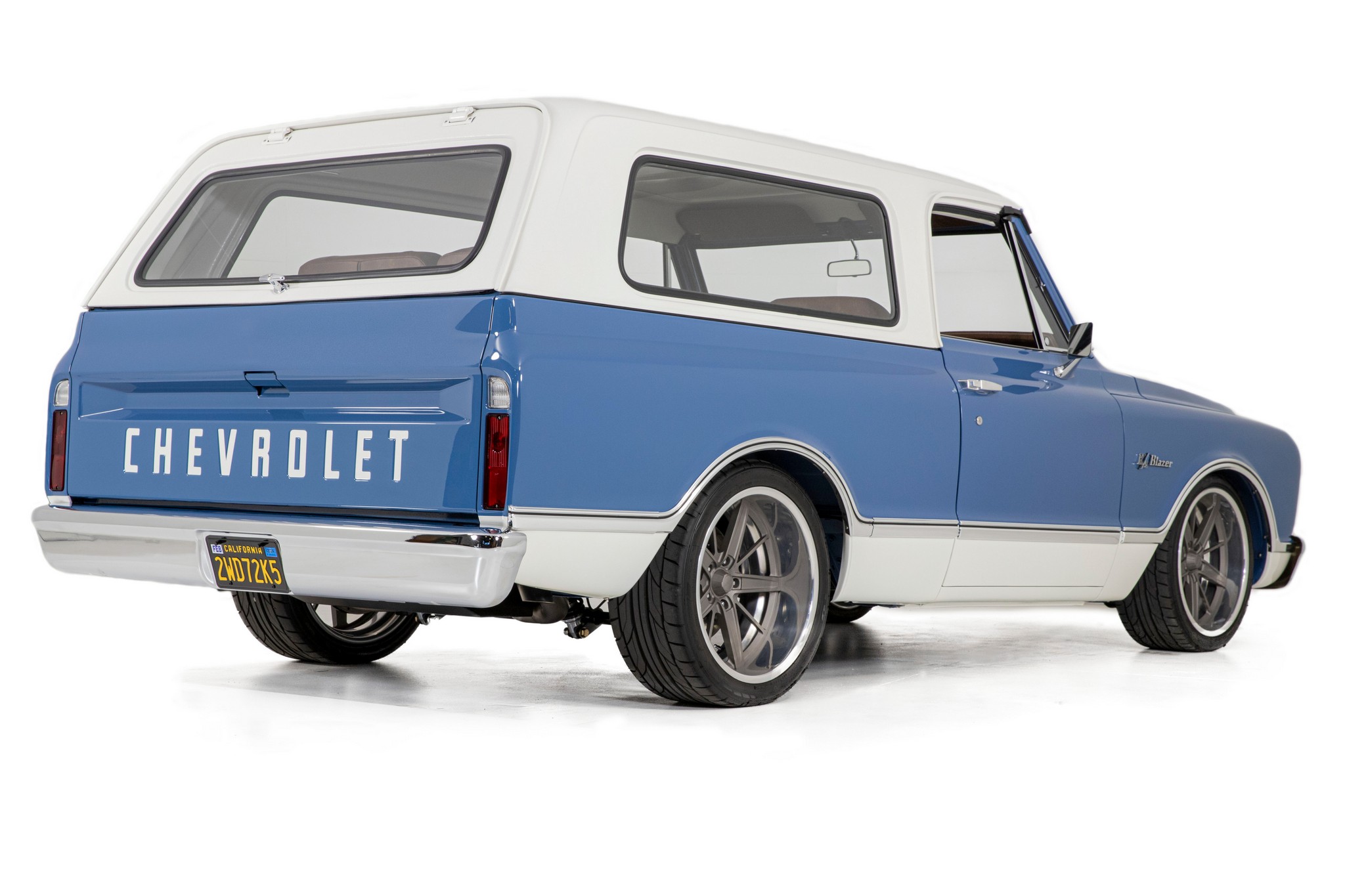 As you can see with the level of detail and attention, this K5 was the clear choice for our TRIM Award judges to pick out. Luckily Matt was kind enough to bring it to our studio where we were able to show it some love in our 360-degree studio.