Top Three From C10 Nationals!
Do you like C10 trucks? Then you need to be at the C10 Nationals! This was our first time attending the C10 Nationals in Texas and we were blown away with the quantity and quality of trucks. This event is so big in fact, that they now have a C10 Nationals event in Nashville and new for this year - an event in Utah.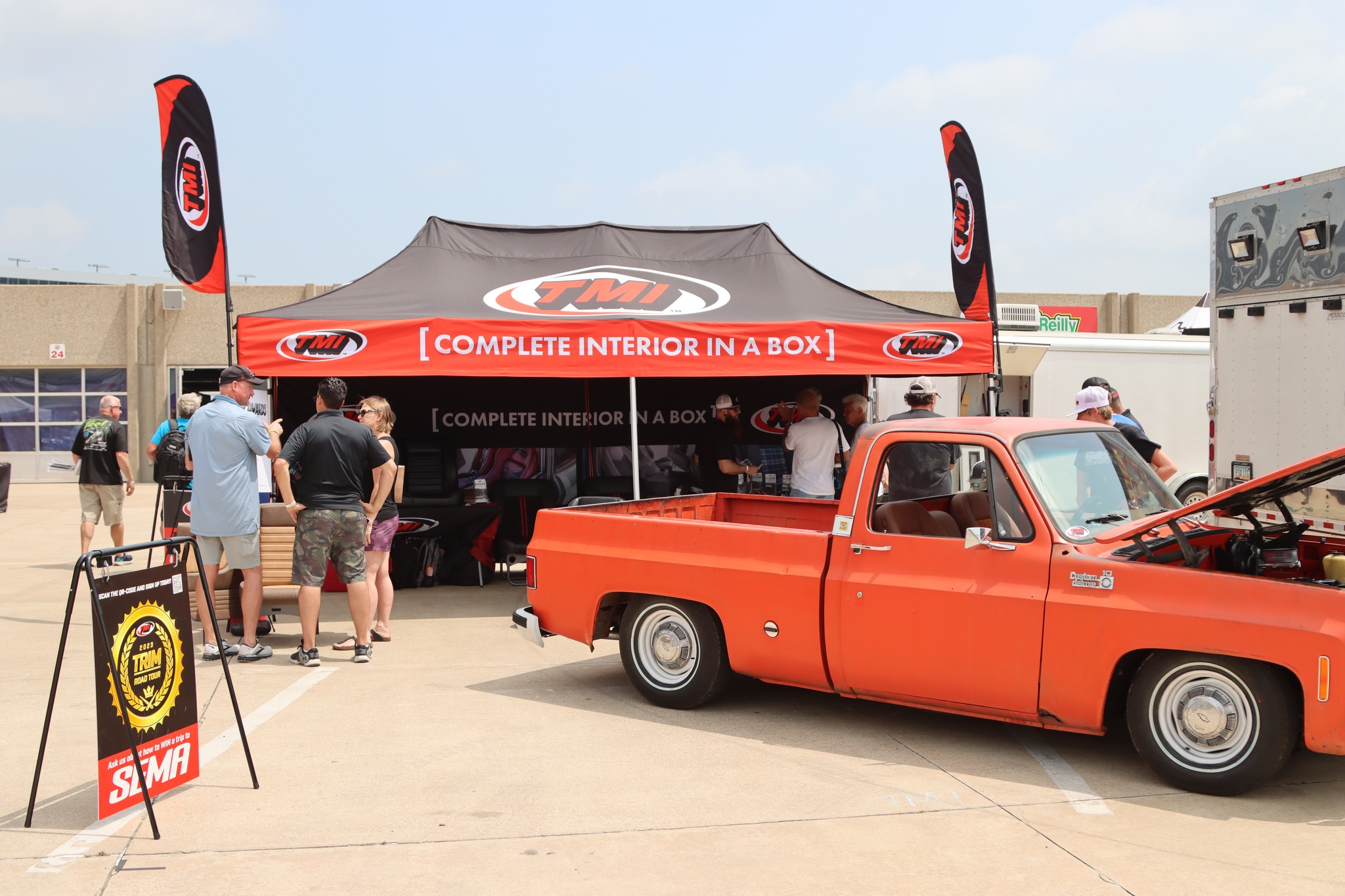 We chose this event to attend and pick out a winner for the TMI TRIM Awards Road Show. At this event if an attendee had a TMI interior and submitted their ride, the judge would review their truck. At the end of the event the judge would pick one truck to be the winner, bringing them one step closer to a trip to the SEMA show.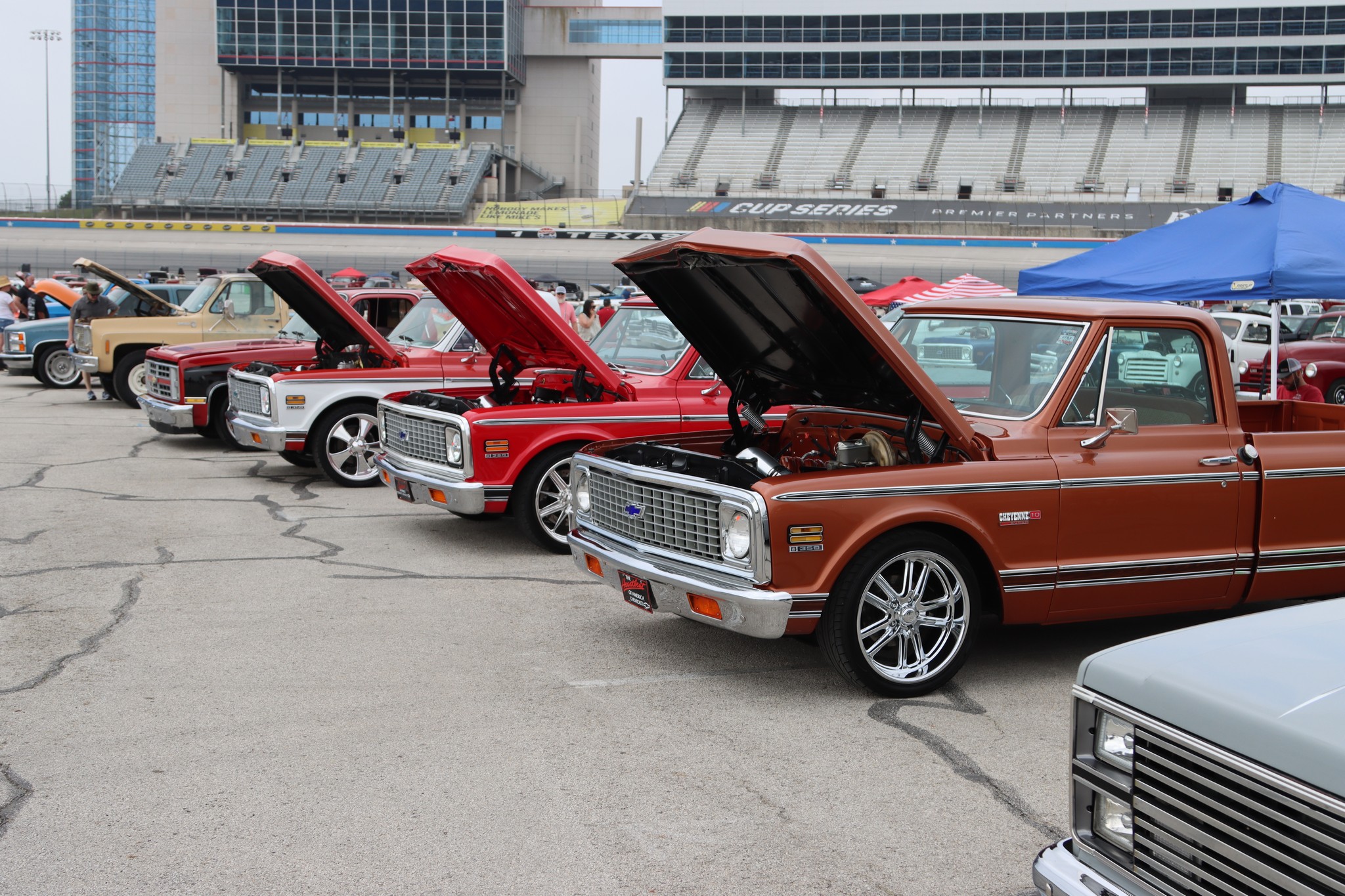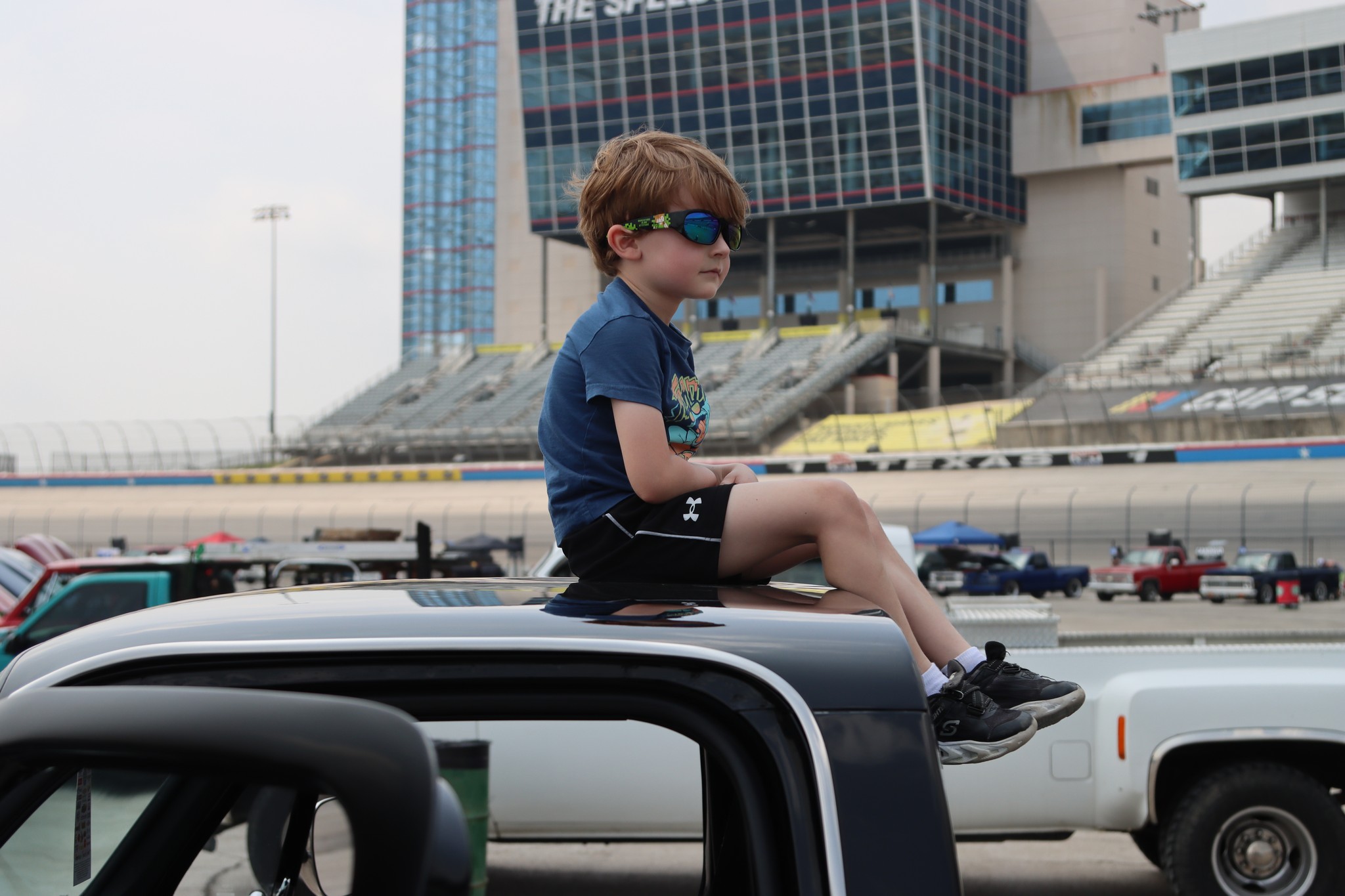 Outside of the TRIM Awards, the other major topic at this event was the weather. The weatherman was predicting rain all weekend - almost two inches on Saturday! What did we get? About three drops and that was it. It was nice and warm which made for great car show weather!
Top Three TMI Picks
While the judge were looking at all the TMI-equipped C10's, we took some time to walk around and check them all out as well. Some were SEMA Show level rides, and others were daily driver homebuilt heroes. We liked the ones that you could hop in and drive, but also like the show trucks. Here's our three favorites, in no particular order.
Phillip Walker, 1971 C10 Phillip's C10 is an award-winning, show stopping truck. In fact, he picked up the win for the TRIM Awards at the C10 Nationals stop. You'd be hard pressed to find anything wrong with this truck - we surely couldn't.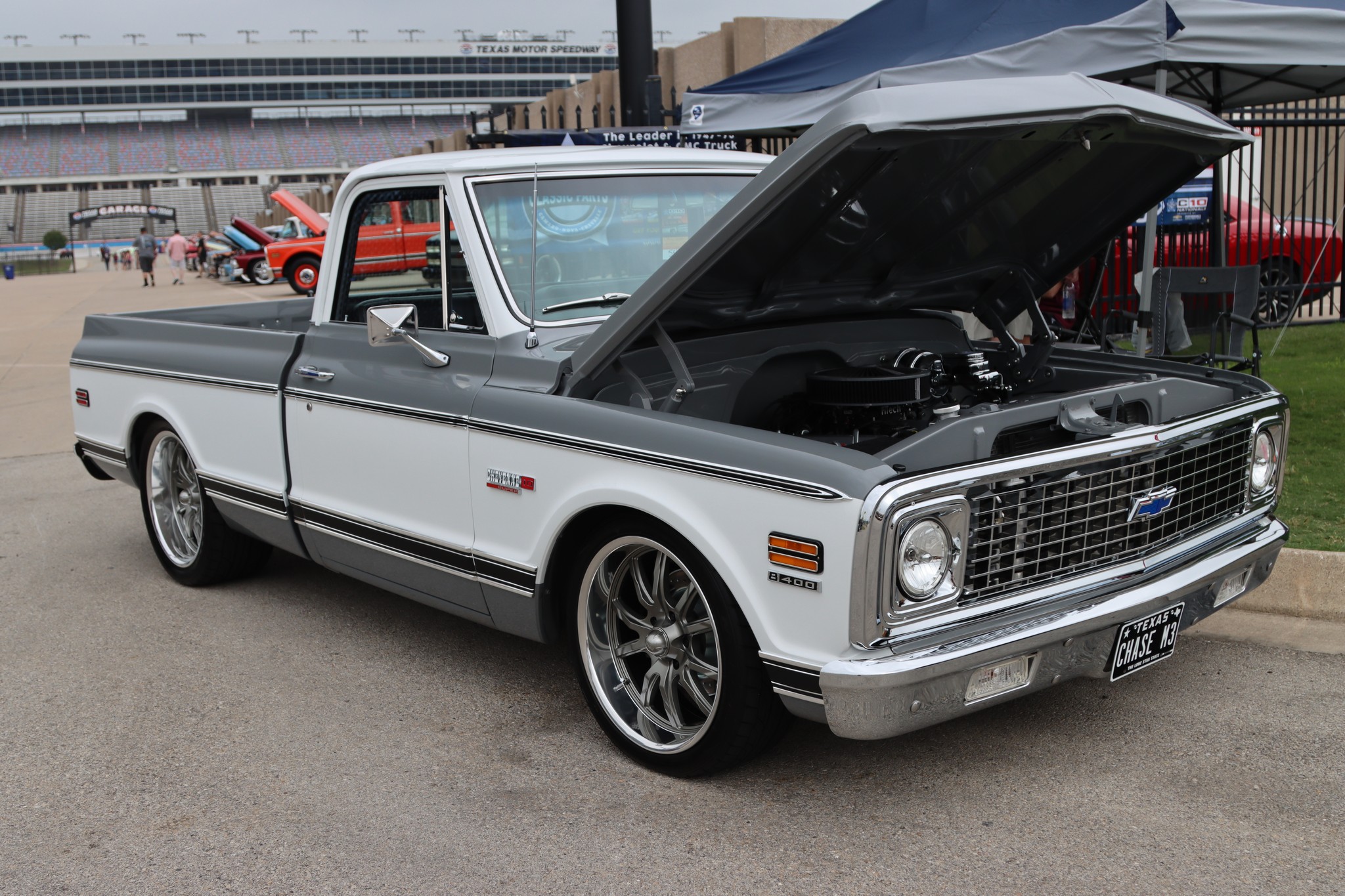 Under the hood this C10 sported a traditional small-block Chevy that was so clean you could eat off it. As cool as that was, it still had some modern upgrades like a FiTech fuel injection unit. Phillip told us he just wanted to keep an old school engine, even though he really appreciated the modern LS engines.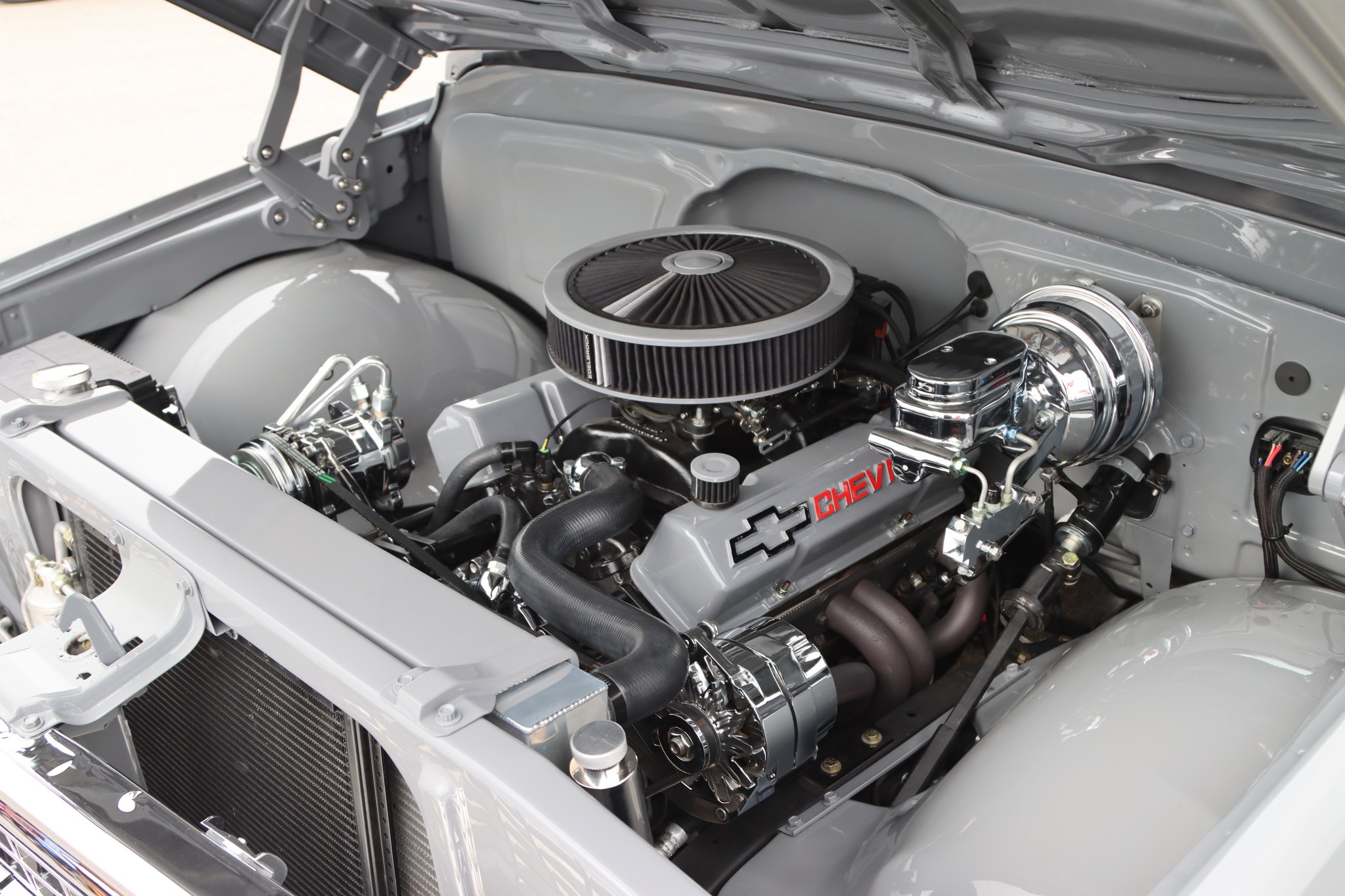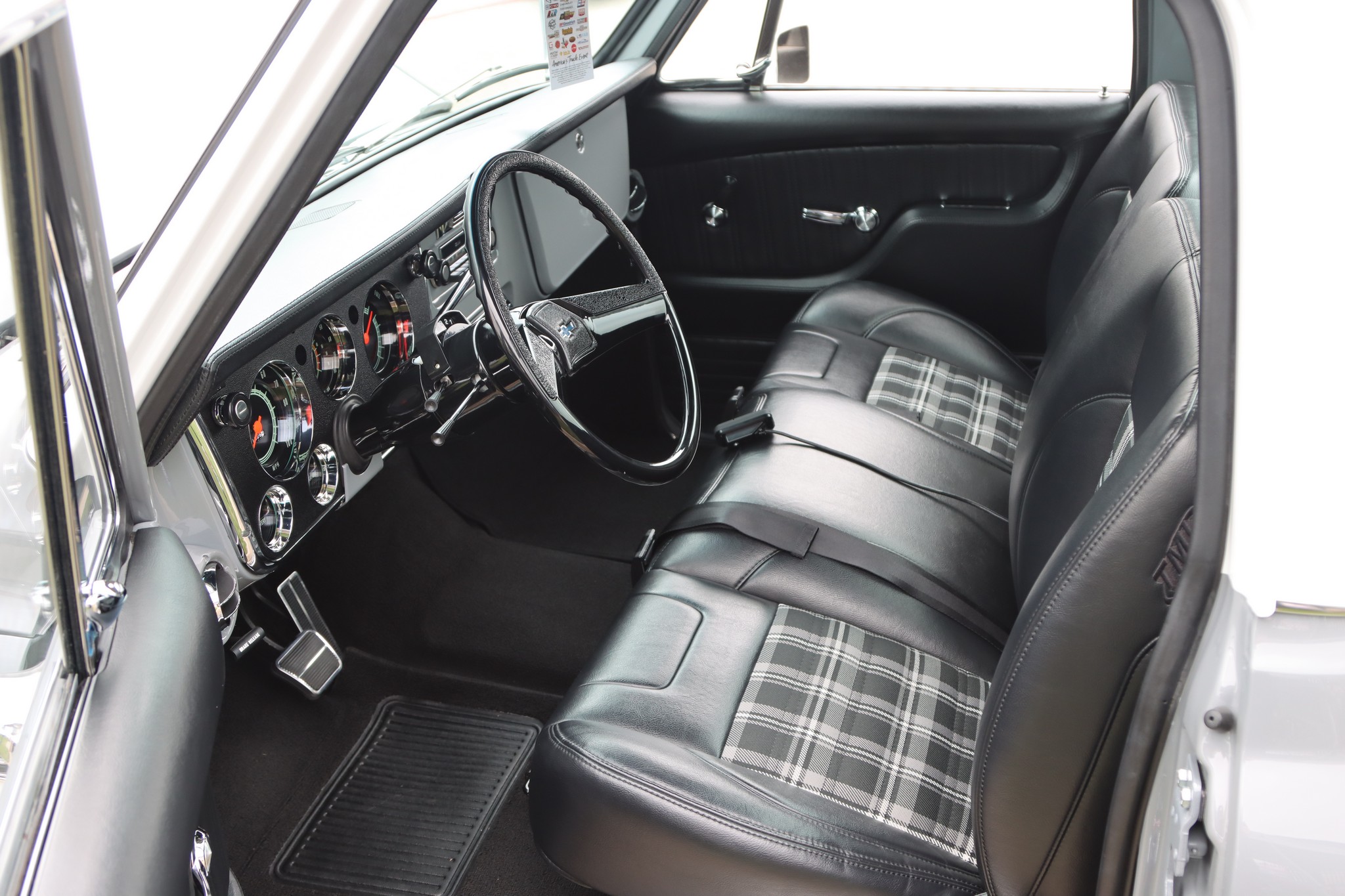 On the inside this slick '71 sports a TMI Universal 60" Sport Bench in black vinyl with white, gray, and black inserts. The door panels were also TMI's molded panels and featured matching black vinyl. This combo was the perfect blend of an old-school appearance with a modern design.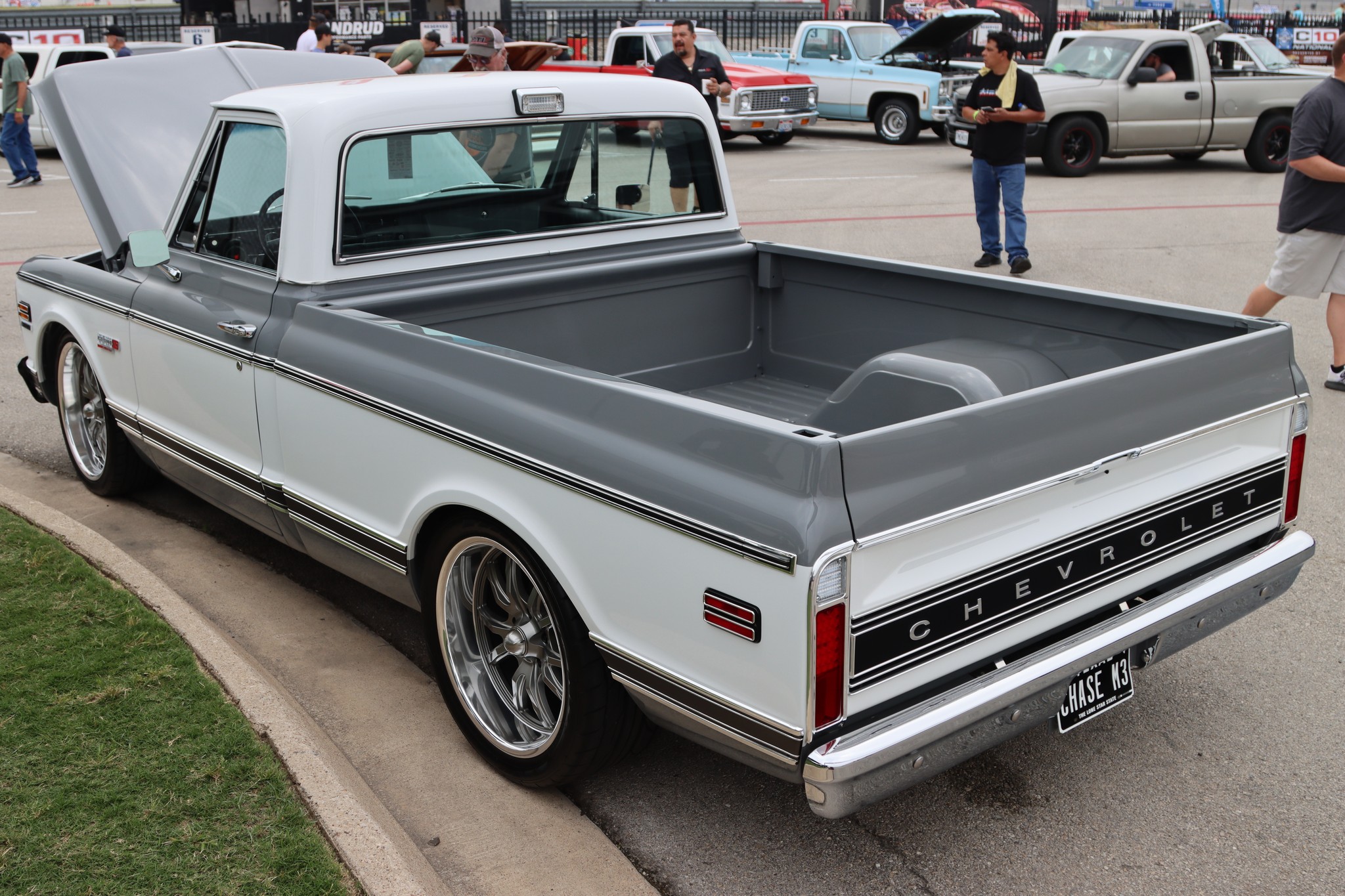 Jerrod Latham's 1968 C10 We might just get in trouble for calling this Jerrod's truck - his daughter Presleigh proudly told us it was her truck! We saw her polishing up the wheels too so we didn't want to question it!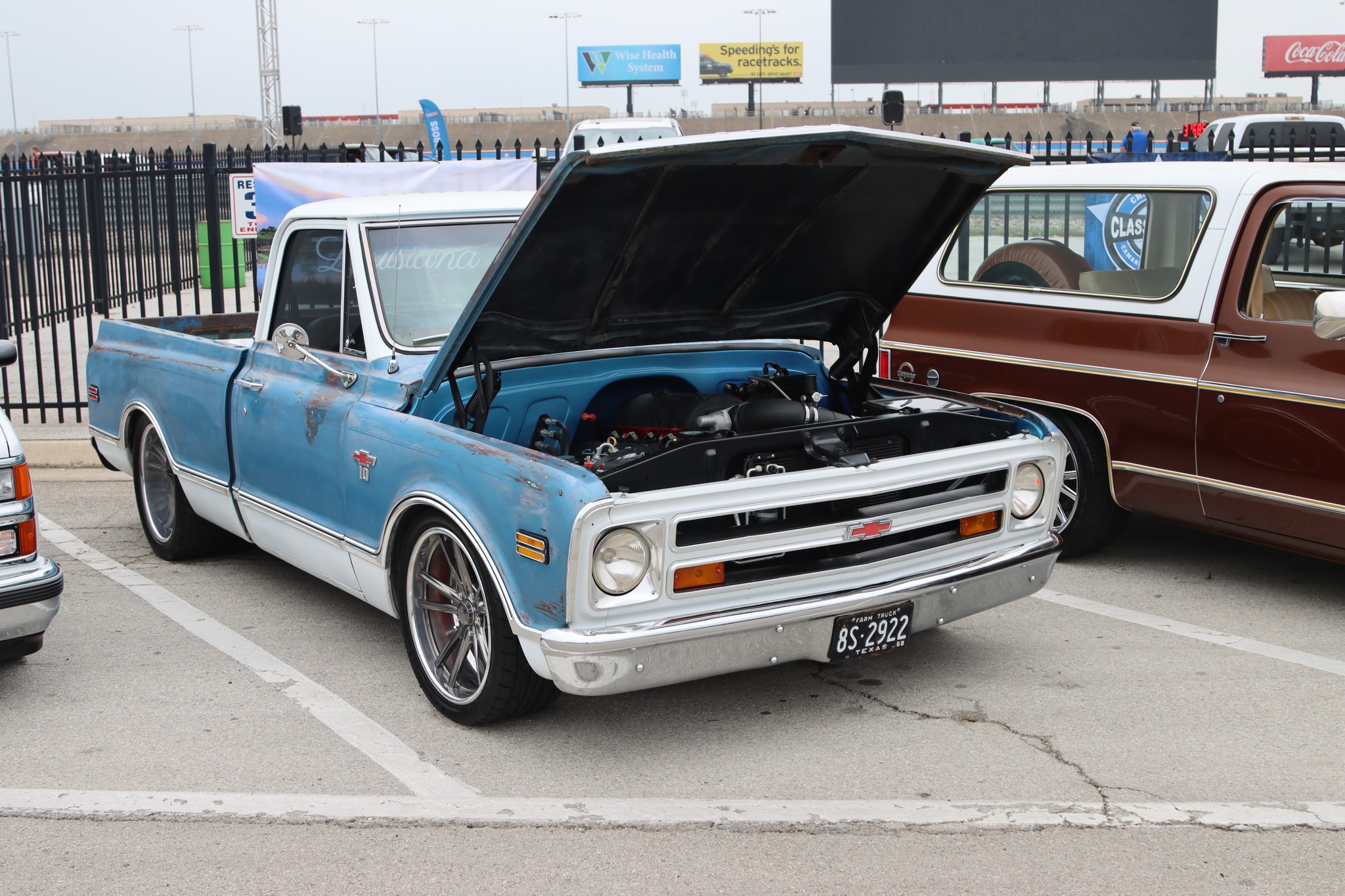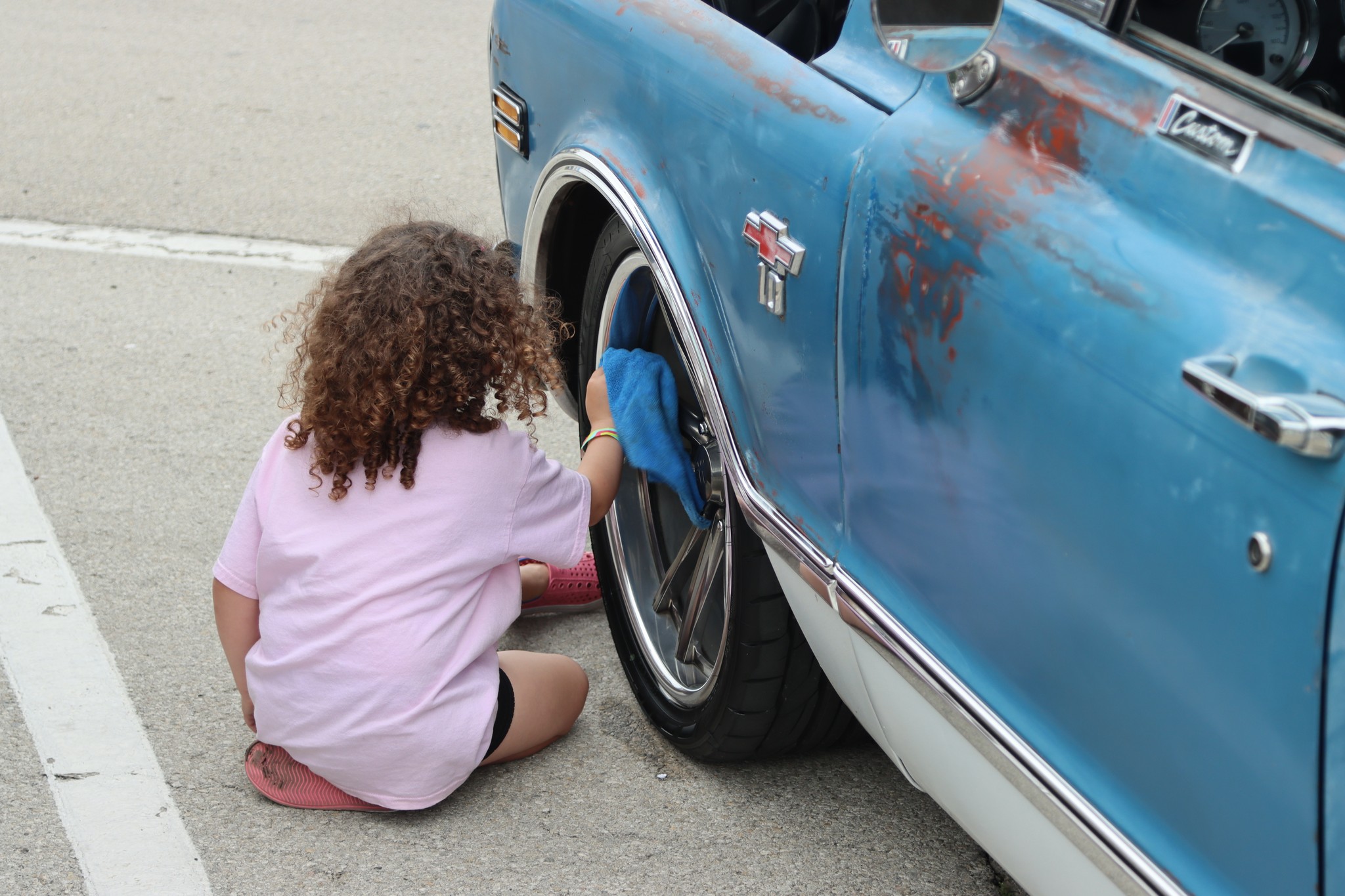 Jerrod's truck we felt was that great blend between a show truck and a daily driver. It has a patina paint job and the underside was dirty from thousands of miles of use. We could see that Jerrod drives the truck and enjoys it - we loved that! There was plenty of modern upgrades to it such as the mini-tubbed rear end, slammed stance, and LS power under the hood.
Read the full feature on Jerrod's truck right here.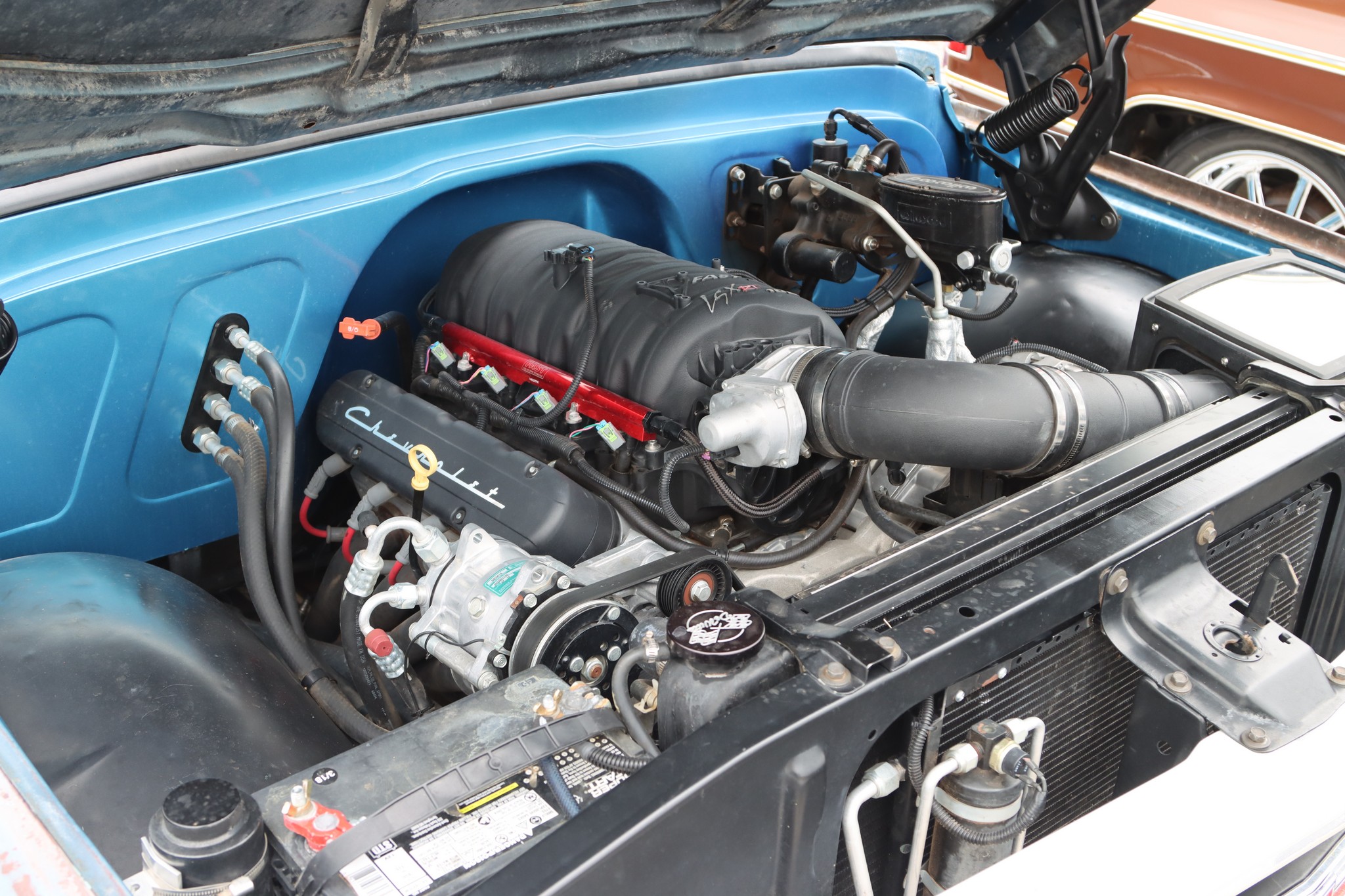 On The Inside he chose a set of TMI Universal Pro-Classic seats stitched up in our Y-509 Distressed Brown. This is a vinyl that looks and feels just like leather, and especially looks at home in this old C10. Sitting between the seats is a TMI Buddy Console that's an arm rest that doubles as a third seat when needed.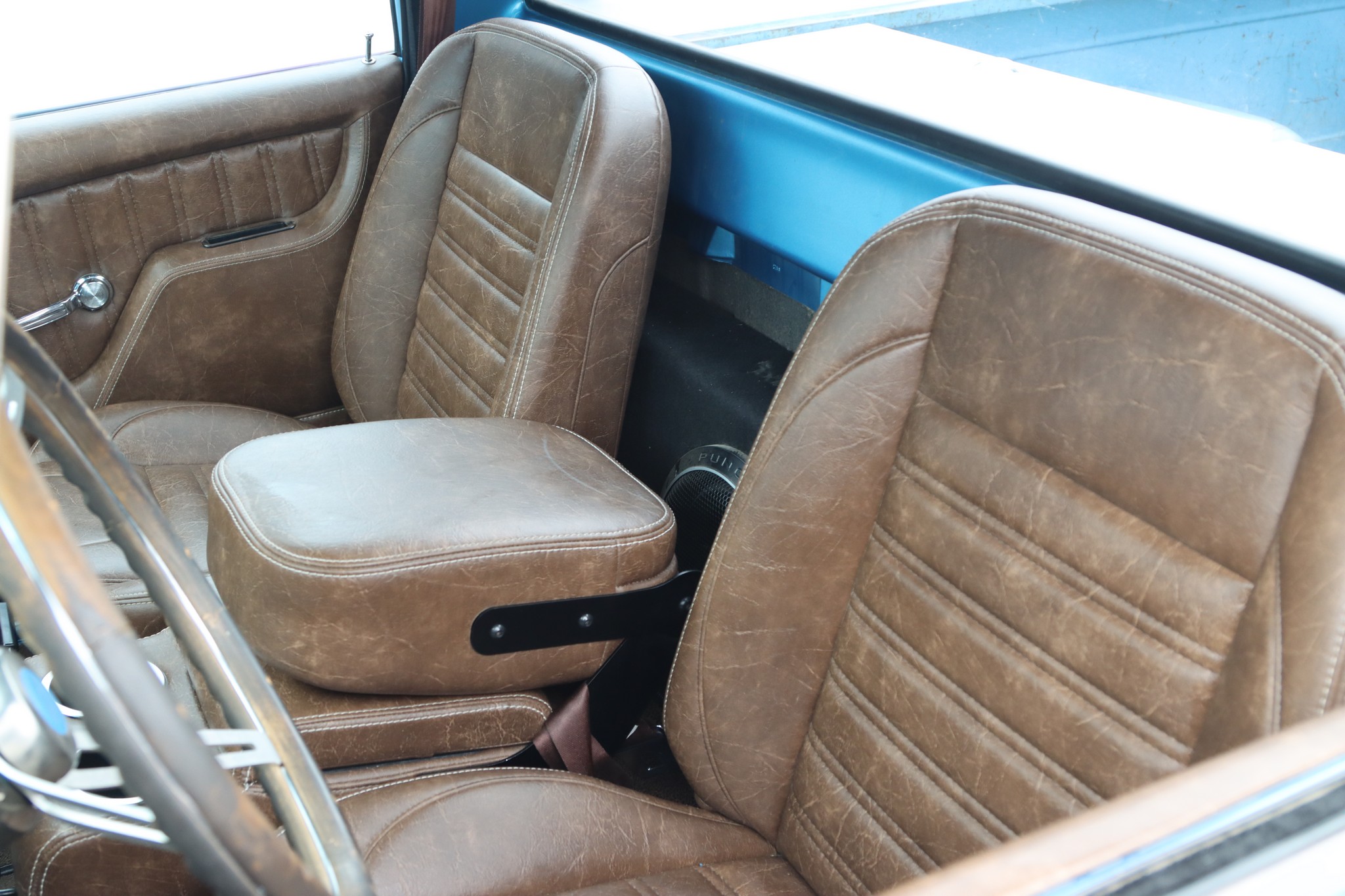 Finishing off the interior Jerrod utilized TMI's molded door panels and TMI's Sport dash pad. These were stitched up in the same Y-509 Distressed Brown with a contrasting white stitch.
Gary Titus' 1955 3100 Now technically this truck isn't a C10 - it's the C10 predecessor, the 3100. Gary's truck caught our eye with its subdued tan paint job, but bright red TMI interior. Talking to Gary we found out he built the entire truck himself, minus shooting the paint.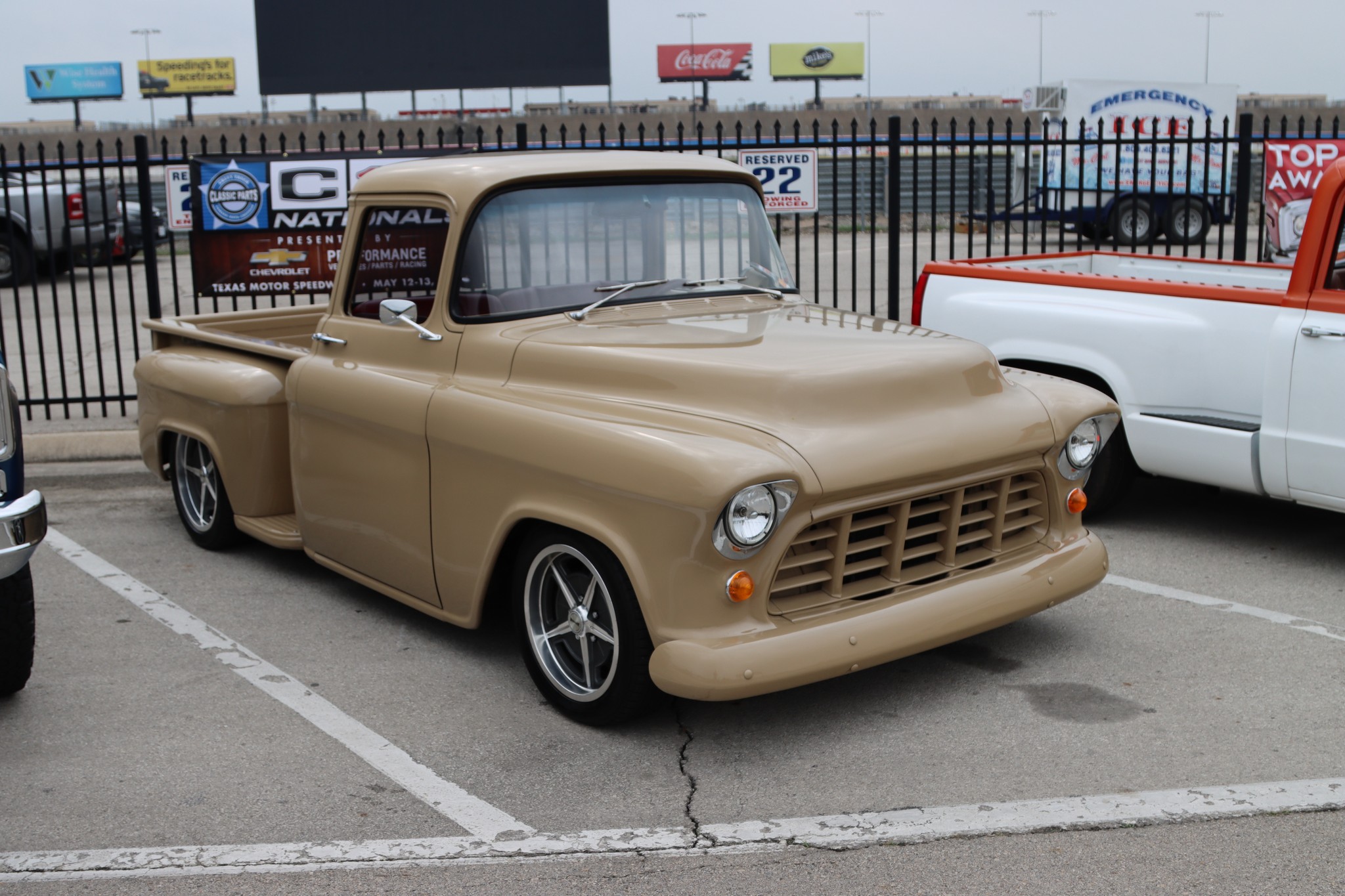 Under the body isn't a 3100 chassis though with some simple upgrades, it's actually an OBS chassis that gives him a way better ride, steering, and stopping power. Gary kept it old-school though under the hood with a traditional small-block Chevy and a tried-and-true carburetor.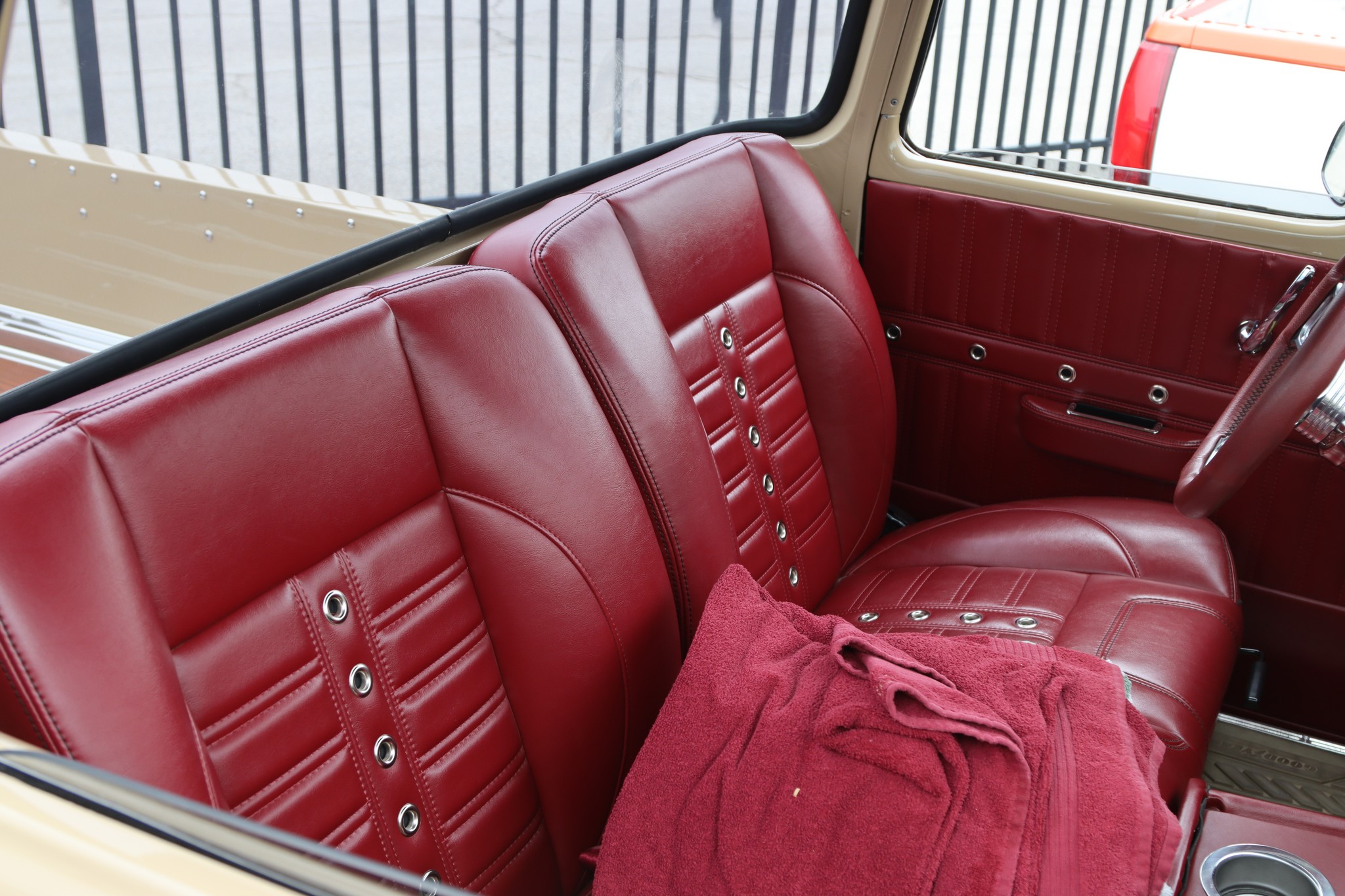 On The Inside a TMI Universal Sport Bench was chosen in a Sport-X pattern. This puts the stylish grommets down the center. Offsetting the tan paint job, Gary chose a vibrant red that makes this interior pop and stand out from the crowd. Complimenting the bench was a pair of door panels in the same material and Sport-X pattern.